I've pondered if I should share this dish or not. It's not a single item in itself, so I imagine is less likely my readers will want to try it. On the other hand, I made this dish as a starter for New Year's Eve and it was a success. I loved it, mainly because its textures, hence the name A Symphony of Textures. It sounds a bit poetic, but I had no idea how else I could name the dish.
It's not difficult to make and it looks fancy. All the ingredients can be prepared in advance, as it is a cold dish. I will share the recipe or include links to every part of the dish.
I might sign my own praises, but I think it looks stunning. A perfect vegetarian starter that will make everybody want to dig in.
The dish has three components: the choux, cheese and avocado cream stacks, and the crumble. They all work great together. I was amazed how lucky I was to create this dish from the first try. This is another reason why I want to share it, to have it as a reminder when I want to prepare another fancy meal. All the ingredients are for 4 servings.
Ingredients for the Choux filled with carrot puree:
– 4 choux made with half of the ingredients specified in the Choux basic recipe (flour, butter, water)
– 2 big carrots or 3 medium ones
– sea salt
– a pinch of mace
– white pepper
– 1-2 tsp butter
Make the Choux as is stated in the recipe. As they don't have any flavours, you can make a whole batch and have some for dessert too, filled with creme patisserie.
Wash and chop the carrots. Put them in boiling water and leave them to boil until tender. Drain the carrots after they are boiled. In a small blender, toss in the carrots, butter, and spices. Blend until smooth. Taste and add more spices if needed, add more butter if the puree is not smooth enough. Mace has a strong flavour, that goes lovely with carrots, but don't add too much.
Don't worry about making the carrot puree in the blender, it works. The potato puree modifies its consistency in the blender and it will have a funny texture, but carrots are different. If you want to make the carrot puree by hand, after is blended, pass it through a sieve to make it smooth. Leave it to cool, then fill the choux with the carrot puree using a pipping bag.
Ingredients for Cheese and Avocado Cream Stacks:
– Edam Cheese slices
– 1 spoon of vegetable oil
– 2 avocados
– 1 tsp wholegrain mustard
– sea salt
– 1 spoon of olive oil
– white pepper
Cut the cheese slices with a cookie cutter, so they all look the same. Heat a frying pan, pour the vegetable oil and fry each slice of cheese on both sides for a minute or so. Leave to cool.
Meanwhile, make the avocado cream by mixing in a blender the avocado pulp with the mustard, olive oil, pepper, and sea salt. Taste and add more spices if needed. Remember that the avocado will be served with the cheese, so don't add too much salt.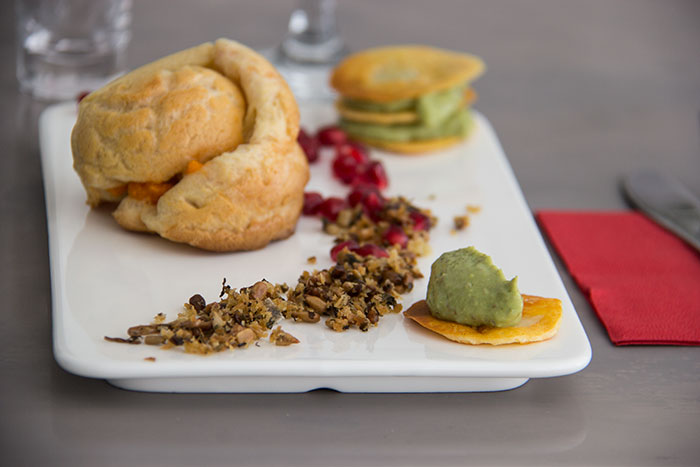 Ingredients for the Crumble:
– 3 spoons of Panko breadcrumbs
– sunflower seeds
– pumpkin seeds
– 1 spoon of oil
– salt
– 1 tsp dried parsley
– 1 tsp dried basil
– white pepper
– fresh pomegranate seeds
Bake the seeds in the microwave or in the oven, carefully so they don't get burned. In a small frying pan, heat the oil, toss in the spices and heat them. Add the breadcrumbs and stir. After a couple of minutes, add the seeds and mix again.
Arrange the plate by placing the Choux filled with carrot puree on a side. Make a stack with the cheese and avocado cream on a side. On the other side, put only a slice of cheese with a rocher of avocado cream on top. Put the fresh pomegranate seeds between them, continuing with the Crumble.
I hope you've enjoyed my recipe, let me know if you want to try it.