I made this Foret Noire Cake for our 10th wedding anniversary. As we wanted roses and rose petals on our wedding cake, I though I should recreate our idea on this cake.
I am delighted with the cake. It looked beautiful and it tasted good too. Initially I thought I will cover the cake with white fondant, but we both prefer less sweet cakes, so dark chocolate was a better option when it comes to taste. I think the red roses looked beautiful on the black. I did put some petals on the chocolate before melting it to see how it would look like, just to make sure it wouldn't have a Halloween'ish effect.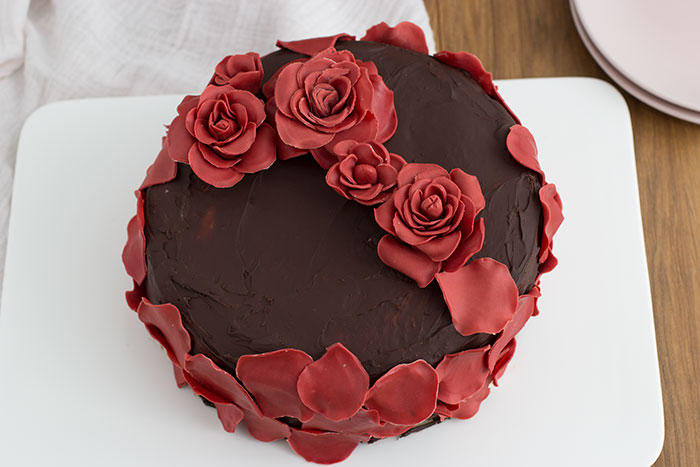 It's the first time I used my rose cutters and they are easy to work with. I made rose buds before, for the Matcha & Rose Cake, but never roses in bloom. I was worried they will not look as realistic as the ones I saw online. I shouldn't have worried, with tools, creating roses is quite easy. I think I might get a few more tools for making fondant flowers and leaves.
For the roses I had a 5 petal cutter in 6 sizes. I used some of the same cutters to make the petals. The same cutters can be used to make a 10 petals flower. I like that the cutters are so versatile.
Ingredients for the sponge, 3 layers:
– 300g self raising flour (mix of white and wholemeal)
– 6 eggs
– 225g demerara sugar
– 225ml oil
– 3 spoons of cocoa powder
– 1 tsp baking powder
– vanilla paste
Ingredients for the cream, syrup and icing:
– 250g light mascarpone
– 75g butter at room temperature
– 100g icing sugar
– vanilla paste
– cherry flavouring (optional)
– 1 can of pitted cherries
– 50ml sour cherry liqueur
– 150g dark chocolate + a bit more for fixing the rose petals