I'm fascinated by old recipes so making Orange Jam, Tudor recipe sounded like a great idea. After I made it, I was amazed how good it is. I can say this is one of my favourite jams. The flavour of the orange is so strong with only 2 ingredients and very easy to make. I would say anybody that wants to experiment in the kitchen should try it. I wasn't sure I would like it as much as I did because I'm not keen on orange marmalade. But the taste is very different.
To make the jam I boiled the orange. It's something I've done before, for example in my recipe of Dark chocolate and orange cake. I used 3 oranges for 2 jars. I put only one whole orange and the pulp of the other two. If you want a more bitter taste, add two or all three peels. If you don't want any bitter taste, use only the pulp. For me, one peel gives it a lovely flavour and I like it as it is.
I'm going to make this jam again for winter as it needs less sugar than the standard jam. Maybe I'll add a bit of cinnamon and nutmeg to that one. As the oranges are boiled, I kept the water and I used it in smoothies. It has a lovely flavour. I put it in two small bottles and kept it in the fridge for a couple of days.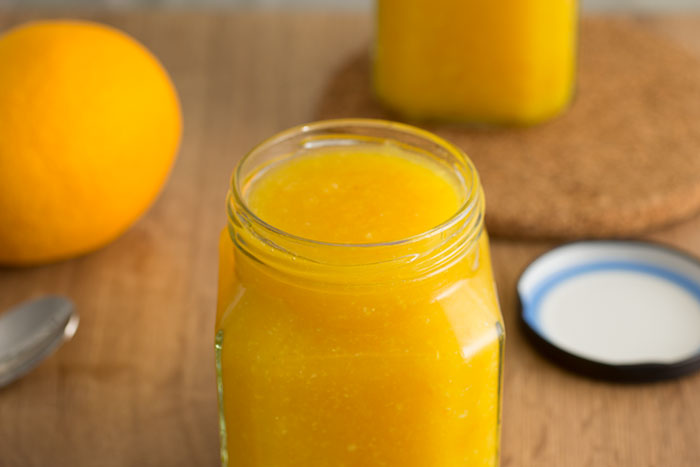 Ingredients for 2 jars:
– 3 oranges
– 250g icing sugar