Imagine my delight when I was asked to try one of these delicious blender recipes*. After looking at them, I picked Homemade Flatbread with Tzatziki sauce. As I always do, I had to make things a bit more difficult for me, so I made two types of flatbread, one with white flour and the other one with spelt flour. I do love making bread and it's very appreciated in our home too.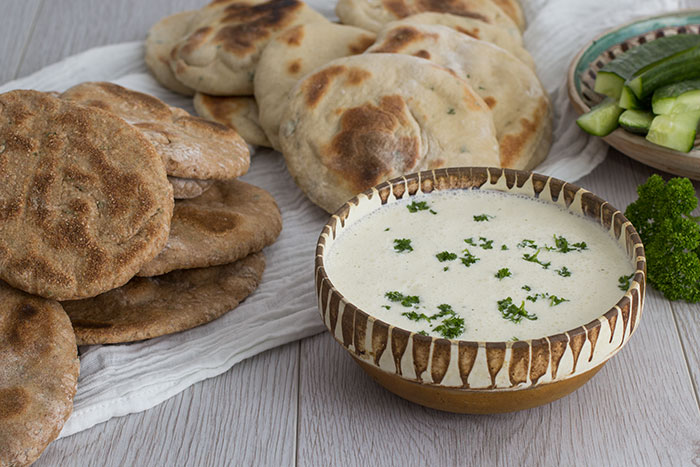 I made 10 white flatbreads and 10 spelt flatbreads. As it's a bit much, I freeze half of them. When freezing, the bread should be wrapped in a lot of cling film. Freeze on the day of making the bread. Let it in the fridge overnight when you want to defrost it. The bread will be very good.
I followed the recipes, the only thing I modified is that I added more fresh herbs. I used my own grown fresh herbs, but shop bought ones are just as good. I thought of adding garlic powder too, but it was enough garlic, so I didn't mention it in the ingredients, but it's an idea to keep in mind if you want an extra garlicky taste. I always use white pepper on white sauces because it looks better.
Ingredients for the Tzatziki sauce:
– 500g Greek Yoghurt
– 2 tsp Fresh Garden Mint
– 50ml Olive oil
– 1 clove Garlic Clove
– Sea Salt
– White Pepper
Ingredients for Spelt Flatbread:
– 500g Spelt Flour
– 1 tsp Easy-Bake Yeast
– 1.5 tsp Sugar
– 30ml Olive Oil
– Sea Salt
– 300ml Luke-warm Water
– 2 tsp Fresh Parsley
Ingredients for White Flatbread:
– 500g Strong White Bread Flour
– 1 tsp Easy-Bake Yeast
– 1.5 tsp Sugar
– 30ml Olive Oil
– Sea Salt
– 300ml Luke-warm Water
– 2 tsp Fresh Parsley