I made Ramen for the first time and it turned out delicious. I will share the recipe for it and I will make loads of variations because I love it, my husband likes it and I'm so excited with the new chopsticks I bought. I want to learn to use them properly.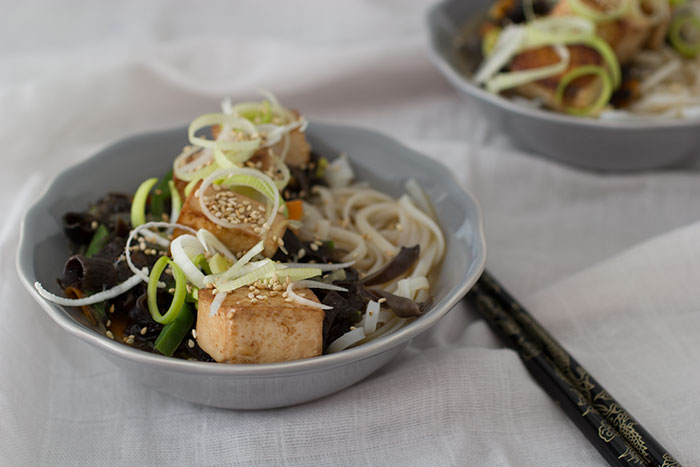 My husband and I went to a newly opened Japanese restaurant in Manchester last month called Shoryu Ramen, you can have a look at my review on ancaslifestyle, if you want to have a nosy. We both enjoyed our dishes; the vegan option as the other ones weren't really suitable for us. The hard part was to eat the Ramen with chopsticks and ladle, but I plan to change that by using the chopsticks at home as much as I can. As I said, we both were happy with the vegan option, so this Ramen is vegan.
I had a thought about the broth and the toppings and I decided to do something simple for the first time. To make this Ramen, I didn't follow any recipes, but I looked on the packaging and went from there. The only thing that I would change, I would make a little more broth, like adding 50% more vegetable stock, but it was too late when I realized I wished there was more broth. I saw that some recipes of Ramen have less broth and some have more, I think it might be just a matter of preference.
Ingredients for 2 servings:
– 75g rice noddles
– 450ml vegetable stock
– 100g silken tofu
– 10g dried black mushrooms (wood ear mushrooms)
– 5g dried seaweed
– 30g leeks
– 10g carrots
– 10g peppers
– 2 tsp miso paste
– 1 spoon sesame oil
– 1 spoon soy sauce
– white sesame seeds