My husband and I love pizza, like most people I guess. It's something I bake often, as it's not a lot of hassle. It's very easy to make, I can put on it what I have in the fridge and it turns out delicious every time. This time I've made Shiitake Mushroom Pizza. From all the mushrooms, Shiitakes are my favourite. Besides mushrooms, I put Specialty Olives that I made a few weeks ago. I need to make another batch, a bigger one, now that Christmas is coming.
On the 25th I've started a personal challenge: 30 bakes in 30 days. Basically, I want to bake something each day. It doesn't matter if it's something easy like a pizza or a loaf of bread. It can also be a 3 tier cake. It mostly depends on what I have in mind if there is a special occasion or not. I will finish the challenge on the 24th December, a day in which I'm sure I'm going to bake… like a lot.
If you fancy joining in the challenge, even with a single bake, use the hashtag #30Days30Bakes on twitter and tag me ancaslifestyle. I will RT all vegetarian recipes and I will also comment on all. In the roundup I'm planning to make after Christmas, I can link to any recipes that caught my eyes. Feel free to link to my blog, obviously I would appreciate it, but it's not necessary.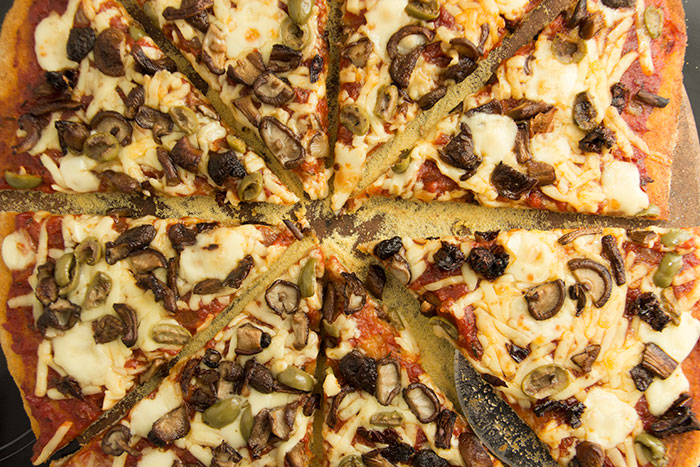 Now, let's talk about Shiitake Mushroom Pizza, the first in my #30Days30Bakes challenge. I made it on a pizza stone, so I gave specific instruction for it. If you don't use a pizza stone, just put the dough on a baking paper on a tray. It's easier.
Ingredients for a big pizza:
– 100g strong white flour
– 100g strong wholemeal flour
– 6g Easy-Bake yeast
– 1 tsp sugar
– 130ml lukewarm water
– salt
– coarse cornmeal
– 3 spoons oil
– 100g Shiitake mushrooms
– 100g grated cheddar
– 200g tomato sauce
– 30g Gouda
– olives and sundried tomatoes