I wanted to use things I had laying around in the fridge, so I've made this dish: fried halloumi, rice, green beans and yogurt sauce. It's easy to make, but the green beans can take a long time to boil, so do allow plenty of time for them.
The yogurt sauce is made with garlic and parsley. I used lots and lots of condiments to flavour the rice and it turned out lovely.
Ingredients for Halloumi, rice and green beans, 4 servings:
– 250g halloumi
– 150g rice
– 6 spoons of yogurt
– 400g green beans
– 2 spoons of tahini
– 4 spoons of oil
– 1 spoon of chilli oil
– garlic powder
– dried parsley
– paprika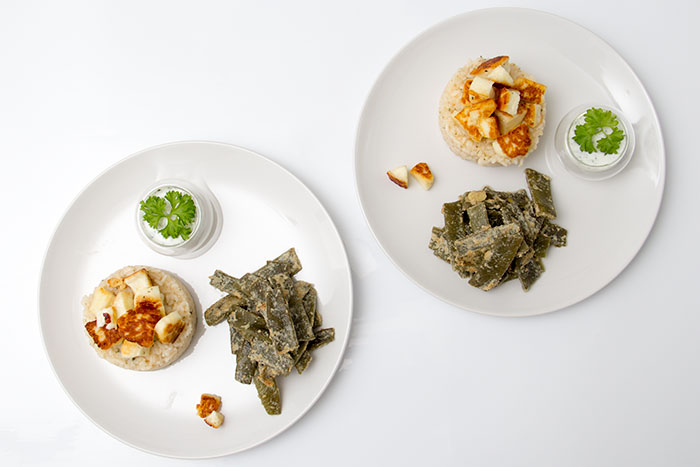 Start by preparing the green beans. I used fresh beans that I prepped and kept in the freezer. If you use fresh or frozen, boil them for a few minutes. If you boil them for longer it will take less time to cook. Strain the beans and put them in a pre-heated frying pan with a couple of spoons of oil. Fry them slightly, then add some water and leave them on the hob for 30-40 minutes. When the beans are ready, add the tahini, garlic powder and paprika and stir.
Meanwhile, boil the rice in water with a spoon of oil. Add the chilli oil, the garlic powder, the paprika and stir. Taste and add more condiments if you think is needed.
Cut the halloumi in small pieces and fry them over medium heat in a spoon of oil. Make the yogurt sauce by mixing yogurt with garlic powder and lots of dried parsley. Use fresh parsley if you have for decor. If you want to use fresh parsley in the sauce, make sure you remove all the excess water before chopping it.
The dish is ready to be served. I've decided to plate up using my cooking rings and glass cups for the sauce.