Mucenici is a traditional Romanian dish that is made on 9th March and it has a religious meaning. I'm not going to talk about the religious meaning because it's not why I've made mucenici. I made them because my husband loves this dish. It's quite easy to make, but I usually forget about it, until the beginning of March. A few years ago I did a modern take of mucenici, Ravioli with peanut butter and cinnamon.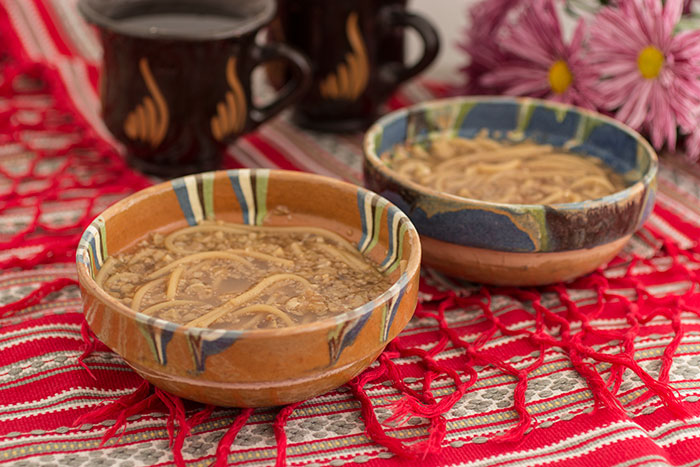 There are two types of Mucenici, one is this sweet pasta soup. The second one is bread-like, similar to a hot cross bun.The soup type of Mucenici are called muntenesti. That is the Romanian word for from Muntenia, the south region of Romania. My husband and I both had this as children, as we are both originally from the south.
The traditional recipe is made with pasta shaped as 8. Well, I didn't make my own pasta, and I discovered in the morning that I didn't have any other kind of pasta in the house besides spaghetti. So, I made spaghetti mucenici. It's a bit odd, but it works. I do think it would have been a bit better with other types of pasta, like penne. As the spaghetti were long, I broke them in 4.
The soup has a lot of flavour. I've used all the Romanian traditional flavours, like rum, vanilla and cinnamon. When I say Rum, I mean Rum extract. Not easily found on the supermarket shelves, but available in International shops. If you don't want to make it child-friendly, add real Rum. You can also change the orange flavouring with orange peel.
Ingredients for 4 servings of Mucenici:
– 100g demerara sugar
– 100g pasta
– 1/2 tsp vanilla paste
– 1 tsp cinnamon
– orange flavouring
– 1l water
– 75g walnuts
– 1 tsp rum extract (or 2 spoons of Rum)
In a pan, put the sugar, vanilla, cinnamon, and orange flavouring. Pout the boiling water on top and stir. Put the pan over medium heat and stir. When the water starts boiling, toss in the pasta and stir.
Leave to cook for 10 minutes. Meanwhile, on a chopping board, chop the walnuts. Keep 25g of chopped walnuts in a bowl. After the 10 minutes have passed, add 50g of chopped walnuts and stir. Leave on the hob at medium heat for another 5 to 6 minutes.
Turn off the heat. Sprinkle the remaining walnuts on top and pour the rum. Stir. Now the mucenici are ready to be served, if you want to eat them hot. This is a dish that can be served cold too, and it's delicious.
Have you ever heard of mucenici? Is it something you might like trying?