I saw peanut butter Oreo and I immediately thought of cheesecake. I had these jars especially for creamy desserts. I also had Nutella, the idea of a No bake Oreo and Nutella cheesecake was the most obvious choice.
I tried a new recipe of cheesecake with mascarpone and soft cheese. I used the light versions and I think it was delicious, I don't think it needed the extra richness of the full-fat versions of the cheese. It also "saves" 150 calories per portion.
The recipe I made is easy, it takes only a few minutes to make, but it needs time to chill. If you like the desserts sweet, then use the amounts that are in the recipe, if you prefer them a little less sweet, don't add the sugar.
Ingredients for 2 servings:
– 1/2 pack of Oreo
– 125g light mascarpone
– 100g light soft cheese
– 25g icing sugar
– 50g Nutella
– 2 bits of chocolate to decorate
Put the Oreo biscuits in a sealing bag and crush them with the rolling pin. Put the pieces in the jar. If you want to use a food processor, make sure the crumbs aren't too small.
In a bowl, put the mascapone and soft cheese and mix them with a wooden spoon. It's very easy to make it by hand. After less than 1 minute the mixture should start to become smooth. Add the sugar and mix. After we add the sugar, the mixture will be even more smooth and easy to mix. Add the Nutella and mix. Make sure the chocolate spread is incorporated thoroughly. Using a spoon, put the cheese mixture on top of the Oreo crumbs. Level it and put it in the fridge for a couple of hours to chill.
The mixture will harden slightly in the fridge.
After a few hours, take it out of the fridge, put chocolate on top for decor and serve.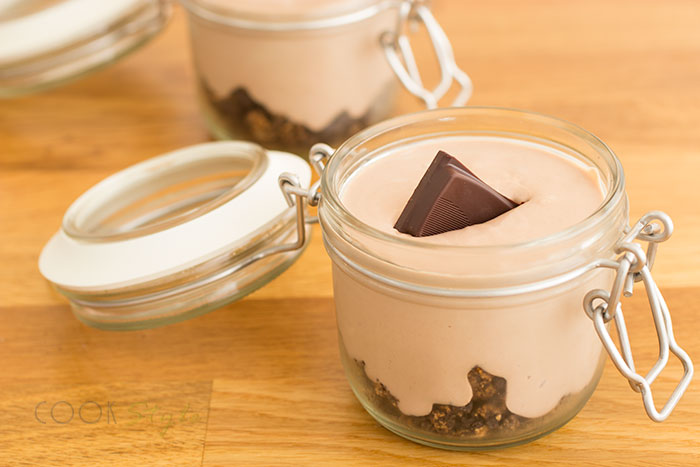 I hope you like my no bake Oreo and Nutella cheesecake recipe.
Do you prefer no bake cheesecake or the baked version?