I made Ramen for the first time and it turned out delicious. I will share the recipe for it and I will make loads of variations because I love it, my husband likes it and I'm so excited with the new chopsticks I bought. I want to learn to use them properly.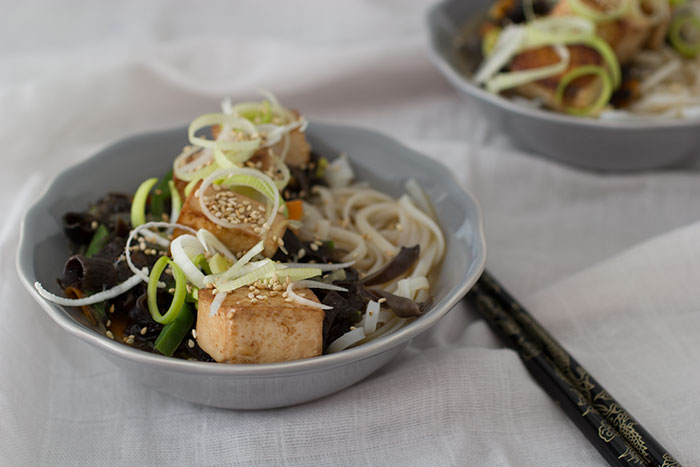 My husband and I went to a newly opened Japanese restaurant in Manchester last month called Shoryu Ramen, you can have a look at my review on ancaslifestyle, if you want to have a nosy. We both enjoyed our dishes; the vegan option as the other ones weren't really suitable for us. The hard part was to eat the Ramen with chopsticks and ladle, but I plan to change that by using the chopsticks at home as much as I can. As I said, we both were happy with the vegan option, so this Ramen is vegan.
I had a thought about the broth and the toppings and I decided to do something simple for the first time. To make this Ramen, I didn't follow any recipes, but I looked on the packaging and went from there. The only thing that I would change, I would make a little more broth, like adding 50% more vegetable stock, but it was too late when I realized I wished there was more broth. I saw that some recipes of Ramen have less broth and some have more, I think it might be just a matter of preference.
Ingredients for 2 servings of Ramen:
– 75g rice noodles
– 450ml vegetable stock
– 100g silken tofu
– 10g dried black mushrooms (wood ear mushrooms)
– 5g dried seaweed
– 30g leeks
– 10g carrots
– 10g peppers
– 2 tsp miso paste
– 1 spoon sesame oil
– 1 spoon soy sauce
– white sesame seeds
Start by preparing the vegetables. The dried black mushrooms, also known as wood ear mushrooms must be soaked for 30 minutes before cooking. When dried, they are very hard. After soaking, they became chewy and they are still hard, so they must be sliced very thinly. Now they are ready to be cooked. While the mushrooms are soaking, wash and cut the carrot, leek and peppers.
Boil water for the noodles. When it's boiling, pour it over the rice noodles and leave them in the water for 3-4 minutes. Drain and leave on a side until the broth and the toppings are ready. Use some of the boiling water to rehydrate the seaweed.
In a saucepan, pour the vegetable stock and bring to boil. Toss in the mushrooms, 20g of leek and boil for a couple of minutes. Add the carrots, the peppers and the seaweed, stir and boil for another 2-3 minutes. Turn off the heat, add the miso paste and stir until is dissolved in the broth.
Meanwhile, in a frying pan, heat the sesame oil. Cut the tofu and toss it in. Stir or shake the pan so all the parts of the tofu are coated in oil. Fry for a couple of minutes at high heat. When it's almost ready, add a splash of soy sauce and shake/stir.
Prepare the bowls for servings. Put the noodles on the bottom. Using a ladle, pour the broth on top. Add the fried tofu on top and sprinkle sesame seeds. The dish is ready to be served.
As a tip, try to do every thing at once. Prepare as much as you can before starting to cook, as it takes little time to actually make the dish. It's very likely I will share more recipes of Ramen as it's so easy to make and the taste is amazing.
Do you like Ramen? It's something you like to prepare at home?