Zacusca is a traditional Romanian dip that is usually made in Autumn for the Winter. It lasts for a few months in the cupboard. My husband likes this dip a lot and we might buy a jar or two from the International shop we go to. The downside of the shop-bought zacusca jars is that they have too much oil. With the ingredients I used, I ended up with for 4 big jars.
I usually make it from scratch, but as I found ready made smoked aubergines and roasted peppers, I've decided to use those and make the dip with them.
These are the jars I've used. The smoked aubergines are Turkish and the roasted peppers are Bulgarian, without any vinegar. Don't use peppers with vinegar for zacusca. To make them yourself is easy, but it takes a bit of time. The aubergines have to roasted in the oven at medium heat, 160C to 180C, flipping them from time to time. When they are ready, the skin is easily removed the flesh of the aubergine is chopped and ready for the zacusca. For the peppers the process is similar, the peppers are roasted in the oven, skin removed and then ready to be chopped and used in the zacusca.
As I said, it's not complicated as they have to stay a long time in the oven, around 1 hour, so it's not likely they get get burned. But it takes a long time and if you find a jar of ready made aubergine flesh or roasted peppers, it's so much easier and hassle free. I imagine there are other brands that make them, these are the ones I was able to buy. I kept the jars and I use them as I like the shape and I think recycling is important.
Ingredients for zacusca:
– 2 jars of smoked aubergines
– 2 jars of roasted peppers
– 750g onions
– 5 spoons of oil
– 900g chopped tomatoes in tomato sauce
– pepper
– salt
Chop the onions. Heat the oil in a big pan over medium heat. Toss in the onions and leave them to cook until they are soft and glossy. Stir from time to time. Add the chopped peppers and stir. After a few minutes add the chopped tomatoes and stir. Leave to cook for 5 – 10 minutes. Tip in the smoked aubergines and the spices and stir until the aubergines are incorporated.
Cover the pan with a lid and leave it to boil over medium heat for around one hour. Stir from time to time so the zacusca doesn't catch the bottom of the pan.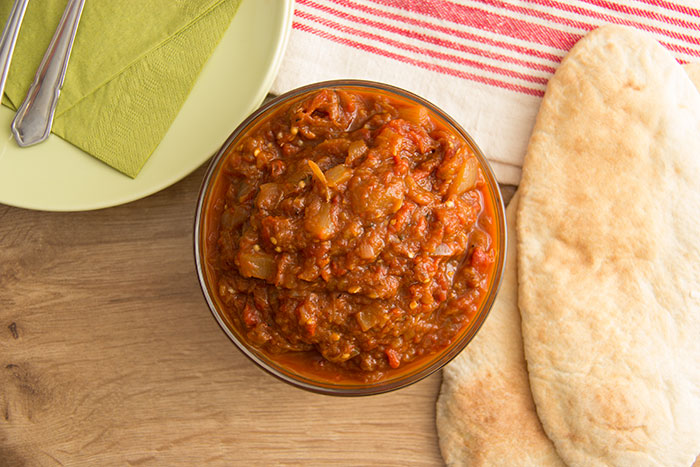 When the zasuca is ready, sterilize the jars by putting them in the hot oven for 10 – 15 minutes. Fill the jars with the zacusca and put the lid on.
Have you tried Zacusca? Would you like to?