I hope everyone had a wonderful time this Christmas. Last year I made a list with everything I prepared and it was helpful when I made the menu for this year, so this is what we had this year.
Get ready for a lot of pictures. I cooked a lot, but we still have food left for the next couple of days.

Devilled eggs, something made traditionally in Romania. My husband loves them, so I made a batch. Preparing this made me realize I need some food tweezers for decorating with small herbs.

Olives and Polish squash pickles. It was the first time I had pickled squash and I love it. It has a mild flavour and it's so versatile. I will buy it again. I'm not sure if it's something specific to the Polish cuisine, the jar I had was in Polish.

Instead of chutney, I made a roasted peppers and sundried tomato sauce. It was lovely.

Mixed mushrooms in oil, they were delicious.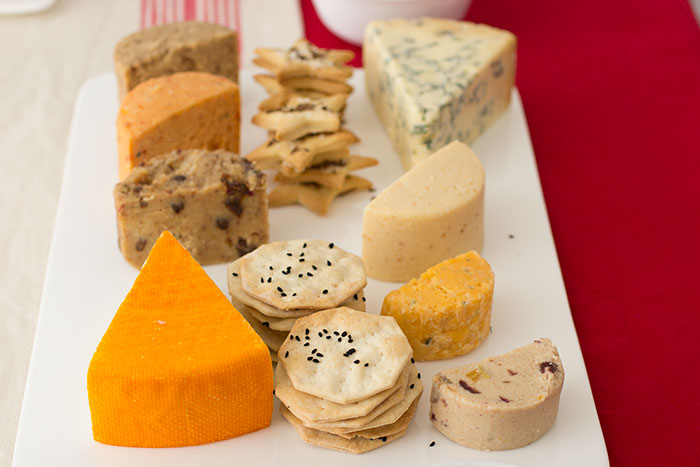 Cheese plate, it can't be Christmas without a cheese plate. I got 6 types of cheddar, Stilton, Port Salut. All served with homemade water biscuits and hot-water pastry stars.
I loved baking my own water biscuits and decorate them with Nigella seeds. I will bake again and share the recipe, it's so easy to make and they are so good. I made the stars with leftover dough from the pie, they were delicious too. I will use this pastry for canapes, it works great.

Stir-fry oyster mushrooms with garlic and mayo.

Tomatoes and an avocado salad for a healthy option.

Of course, I baked bread, as I always do for Christmas.

As a soup I prepared Gazpacho. I wanted something fresh, so a raw soup that has to marinate for 24h was the perfect choice. I loved it. I made it according to the instructions Marcus Wareing mentioned in Professional MasterChef, this series.

Another Romanian dish, stuffed cabbage leaves with roasted chillies and sour cream.

I made a pie filled with chestnuts, oyster mushrooms and courgette. It was delicious, I loved it.

I will bake it again and share the recipe for this one too. It's so good. I served it with roasted Brussel sprouts and mash potatoes.

The train! Awww, the train. It took a long time to make and the mould wasn't exactly perfect. But the train turned out amazing. My husband was the driving force behind it (pun intended). It is made out of a little over 1kg of chocolate and it carries marzipan Christmas trees which I made.

I discovered mince pies when I moved to the UK and I love them. These are similar with the mince pies with grapes and dates, but in a naughty, boozy version.

Limoncello dessert with mascarpone cream. A really grown-up dessert.

My first attempt to make stained glass biscuits. They turned out fine, but I learned I need to add more crushed candies to make the glass. Another recipe that I will make again, to share.

Fruit cake, boozy, of course. I covered it in the green marzipan I made the trees from and a fondant icing snowflake. It was easy to decorate, but I think it looks stunning.

It was delicious too. I love homemade fruit cake, it's so rich and decadent. I used lots of figs and the flavour from them was fantastic.