I made these mince pies as a treat when my husband and I were decorating the tree. I should say the dog did help, by sniffing the branches and, after that, sniffing his gifts underneath the tree every single day. I can't say I blame him, I can't wait to unwrap my gifts too.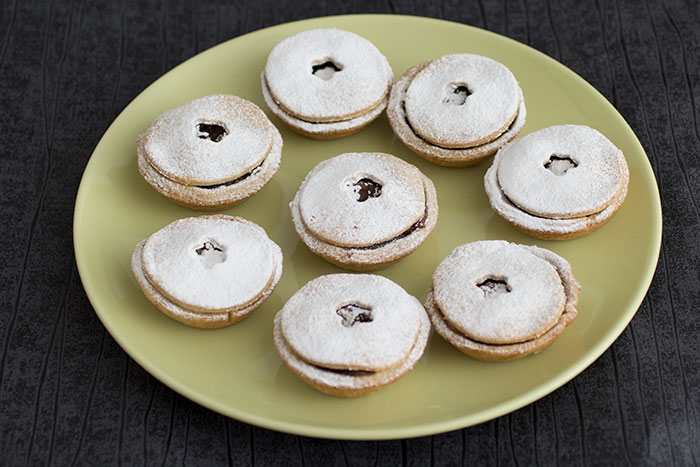 Ingredients for 8 mince pies:
– 175g plain flour
– 75g butter at room temperature
– 1 egg
– 150g grapes
– 100g dates
– 50ml grape juice
– 60g sugar
– 25g ground almonds
– 1/4 tsp cinnamon
– 1/8 tsp nutmeg
– a pinch of black pepper
– 1-2 tsp of icing sugar to decorate
Start by making the mincemeat. Wash and chop the grapes in half. Put the grapes in a saucepan with 50g of sugar, grape juice, chopped dates and spices over medium heat. Stir from time to time so it doesn't catch the bottom of the pan. Take off the heat and leave it to cool.
Meanwhile, put the soften butter in the flour and the remaining sugar. Rub the butter by hand until it resembles breadcrumbs. Add the beaten egg and knead the dough until all the ingredients are incorporated.
Preheat the oven to 190C / 170C fan. On a floured surface, roll the pastry thinly. Cut the pastry and place them in the oiled baking tray. Push the pastry so it takes the shape of the tray and prick the base of the pastry all over with a fork. If the pastry is too soft, put the baking tray in the fridge for 15-30 minutes. Scoop the mincemeat in the pastry and cover it with a pastry lid.
Bake for 15-20 minutes, until golden brown. Take them out of the oven and leave them in the tray for 2-3 minutes. Remove from tray and leave to cool on a cooling rack. Dust with icing sugar and enjoy.

I slightly overfilled my pies and the lid doesn't stay on as it should.
Do you prefer the classic version of mince pies or do you like trying new flavours?