Today's post will be different, I'm going to talk about my spices. I like to use all sort of spices, this way, even a dish I've made before can be more exciting and new by adding different spices.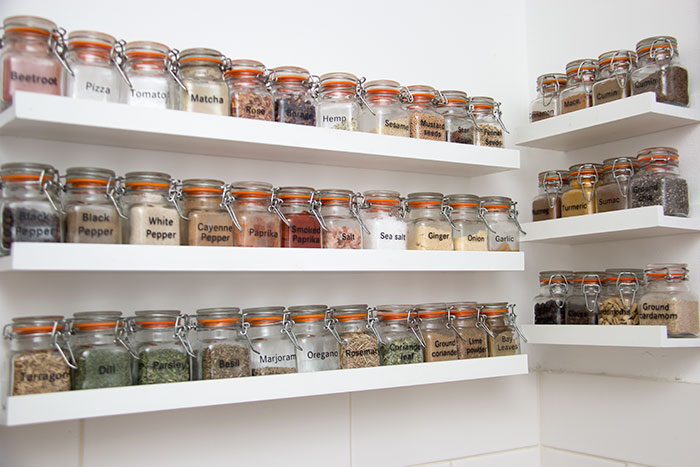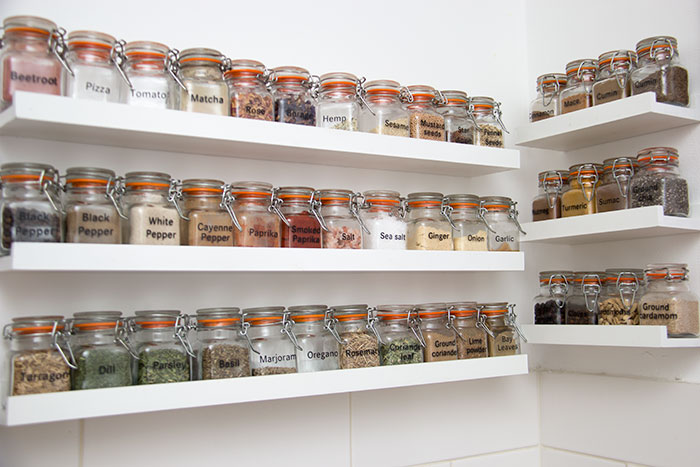 These are the shelves with the spices on display. There are 45 jars of spices. Some of them are empty because I've run out of that particular spice. I often have to buy spices as I do use quite a lot when I'm cooking.
I've tried to place them in categories: herbs, roots. It's easier to pick the ones I need, when I'm in the middle of stirring in the pan.
My favourite spice must be ground cardamom. I use it in risotto's, especially for the vegan ones. I would use it in desserts too. It's a very versatile spice.
Next one is cumin. I like adding lots of cumin when I'm making houmous. If I have shop-bought houmous I will sprinkle cumin and sumac on top. Sumac is the next on the list of my favourite spices.
Some of the spices end up in smoothies too, it's a very nice way to add more flavour and a healthy kick to the morning drink.
The ones that I use the most are the herbs, obviously. Usually Italian herbs, as these are the ones my husband prefers. Two of the jars are now empty and I'm going to change what I have in them. The Pizza & Tomato jars had tomato spice. I bought it from a cooking show and it wasn't as nice as I would have liked. So, now I'm going to change those jars with Chives and Curry leaves. I have the spices in the cupboards, I just need new labels for the jars.
Having all the spices on the shelves made my life easier. I can easily pick the ones I want to use, without having to search for them in the cupboards. Also, I can think of spice combinations better like that instead of trying to remember all the spices I have. Another great thing is that I can use them as props in photographs because they all look the same.