I have to say that this cake was made last year, for Easter. As I thought it would be strange to share a recipe of Simnel cake after Easter, I kept it for today.
Simnel cake is a fruit cake with a layer of marzipan in the middle. The tradition of the Simnel cake is a very long one, starting from medieval times, approximately 13th century. Conventionally eleven marzipan balls are used to decorate the cake, the story is that the balls represent the twelve apostles, minus Judas or twelve marzipan balls might be used to represent Jesus and the twelve apostles, minus Judas. This way of decorating started in Victorian times.
Ingredients for a small Simnel cake, 8 servings:
– 175g soft butter (very soft)
– 175g muscovado sugar
– 85g white self-raising flour
– 90g wholemeal self-raising flour
– 3 eggs
– 1 tsp cinnamon
– 50g ground almonds
– 3 spoons of milk
– 300g mix of dried fruits (I used sultanas, pineapple and apricots)
– 2-3 spoons of apricot jam to glaze the cake
– 450g golden marzipan
In a large bowl, put the eggs, butter, sugar, almonds, milk, cinnamon and flour and mix by hand with a wooden spoon. You can use a mixer, but it's easy to do it by hand. Add the dried fruits and incorporat them by hand.
If the fruits are too big, cut them in smaller pieces.
Roll a sheet from a third of the marzipan. Cut it using the baking tin as a guide. Tip half of the cake mixture into the oiled tin, put the marzipan on top and cover with the rest of the mixture.
Preheat the oven at 150C or 130C fan. Bake for 1 hour and a half to 2 hours. My cake was baked in 1 hour and 40 minutes. Let the cake cool in its tin for 5-10 minutes and then remove it from the tin. Put it on a cooling rack and leave it to cool completely.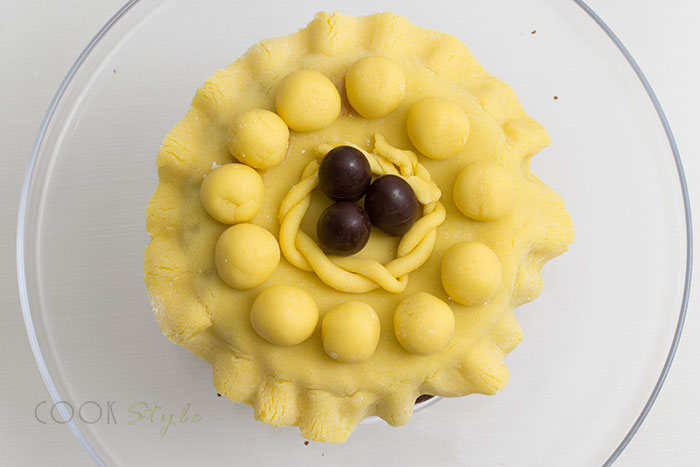 When it's cooled, glaze the top of the cake with warmed apricot jam. Roll another third of the marzipan, cut it slightly bigger than the cake (mine it's a little bit too big) and put it on top. Make a wave on the sides. If it's too big it will not keep its shape as good as it should. With the remaining marzipan, make 11 balls and use them to decorate the cake. The number 11 represents the number of disciples.
From the leftover marzipan I've made a small nest and I put 3 chocolate eggs on top for decor.
I loved the Simnel cake and I will make it again this Easter.