A few days ago I bought a doughnut baking tray. I wanted to make baked doughnuts for a while as my husband loves them. I started with a basic recipe and then I've swapped vanilla with matcha in the second batch.
It was the first time I've made baked doughnuts, so I wanted to see the texture of the batter. Due to this I used plain white flour and white sugar. I will make doughnuts with wholemeal and sugar free and I'll share my recipes after I'm 100% happy with them.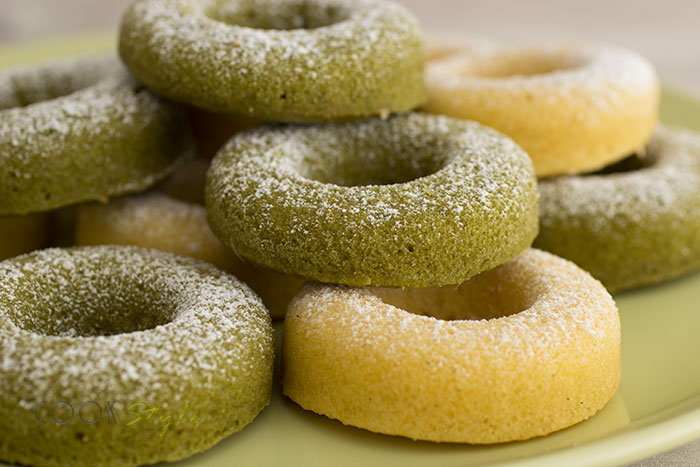 Ingredients for 6 vanilla doughnuts and 6 matcha doughnuts:
– 150g plain white flour
– 110g white sugar
– 1 tsp baking powder
– 2 eggs
– 120ml milk
– 2 spoons of oil
– 1/4 vanilla paste / 1 tsp matcha powder
– icing sugar for dusting
Preheat the oven at 160C or 140C fan.
To make the vanilla batter, measure 75g flour and mix it with half of the sugar and 1/2 tsp of baking powder. Beat 1 egg, then add half of the milk, one spoon of oil and the vanilla paste. Mix the wet ingredients with a spoon and tip the dry ingredients on top. With the same spoon stir until all the ingredients are incorporated.
Put the batter into the oiled baking tray and bake for 12-15 minutes. After you take them out of the oven, leave them for a couple of minutes in the tray.
Take them out of the mould and leave them on a cooling rack to cool. After 10 minutes the doughnuts can be dusted with icing sugar and served.
To make the matcha batter, put the rest of the dry ingredients in bowl, including the matcha powder and mix them. Beat the remaining egg with the milk and oil. Make the batter and follow the same steps as before.

The doughnuts have a lovely texture and they are delicious. I think they are a little different than the fried version, but I prefer them like this. I sometimes find the fried ones a little too oily.
Do you like baked doughnuts? What flavours do you prefer?