I recently bought nutritional yeast. I wanted to try it for a long time as I've seen it in a lot of recipes and I was curious about the taste. After using it in a couple of recipes I can say I'm going to buy more. Nutritional yeast is a deactivated yeast. It's a complete protein and has minerals like iron, selenium and zinc. It's quite healthy, with lots of fibres and a high quantity of protein. While I bought it because I love experimenting with new ingredients, the health benefits are a nice addition.
I like the taste and it's so versatile. I also like having a good alternative to cheese, when I prepare vegan meals. Surprisingly, I discovered that in a different recipe it's actually better than cheese, I'm going to tell you more when I'm going to share that recipe.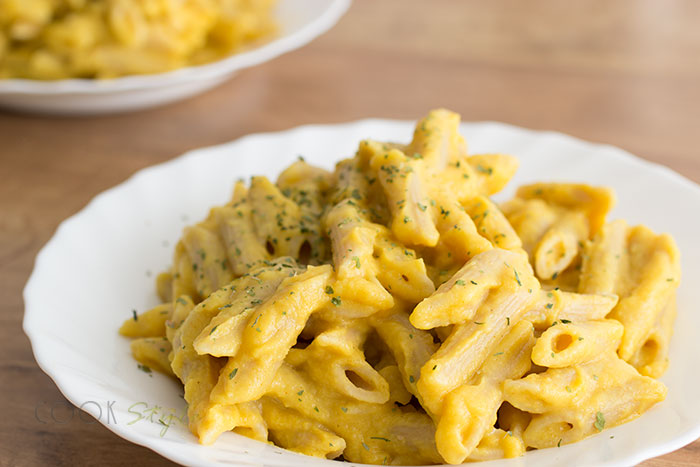 Ingredients for 2 big servings of Vegan cheesy pasta:
– 200g wholemeal pasta
– 350g frozen cauliflower
– 3 tsp of nutritional yeast
– 2 spoons of olive oil
– 2 tsp of sea salt
– white pepper
– turmeric
– paprika
– garlic granules
– dried parsley to decorate
Put the frozen cauliflower in boiling water and boil it until is tender, it should take around 10 minutes. Drain it. Boil the pasta according to the instructions on the package. Drain it and rinse it with cold water so the cooking process stops.
Put the cauliflower in a food processor, add the spices and the nutritional yeast. Blend until the sauce is smooth. Add the olive oil and blend again. Taste and add more spices if you want it. When you are happy with the taste, pour the sauce on top of the pasta and stir.
The dish is ready to be served.
Put the pasta on two plates and sprinkle the dried parsley. If you want more heat, pour some drops of chilli oil on it.
Have you ever tried nutritional yeast? I would love to hear how you use it.