Chaclama are cookies from Oman, a country in the Arabian peninsula. They are made with desiccated coconut and condensed milk, they are not like anything else I've had before. I loved it! The texture is great and the taste is even better. It's not something I would have thought to try, so I'm very glad I've discovered this recipe. It is one that I'm going to make over and over again because it is so delicious.
In Oman, the coconuts are grown around the town of Salalah. Most desserts in Oman have Middle Eastern influence, the Chaclama being flavoured with cardamom. It is similar to the macaroons.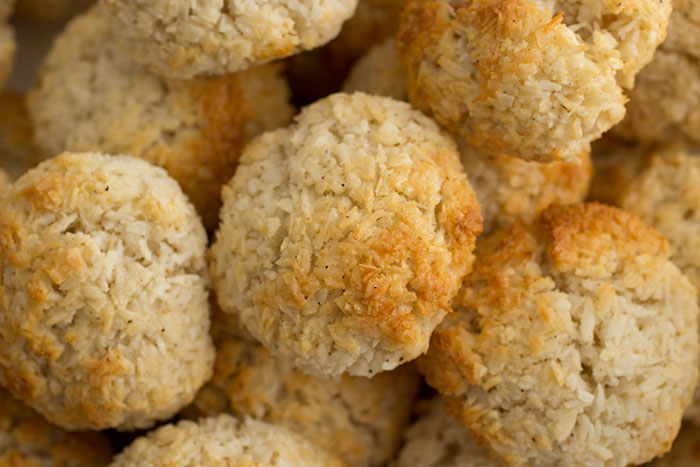 Chaclama, and other desserts, are usually served with Omani kahwa, that is coffee with cardamom. I enjoyed coffee with cardamom from the first time I've tried it at a Shisha bar. My grandfather bought a pack of coffee with cardamom, so I've tried it before, but I think it was a bit too strong and didn't enjoy it as much. While is not visible in the picture, the coffee does have cardamom in it.
Because there is no flour in the recipe, it means that is naturally gluten free.
Ingredients for 35 Chaclama biscuits:
– 400g desiccated coconut
– 1 can of sweetened condensed milk, 395g
– 2 tsp ground cardamom
– 25 grams butter, melted
– 1 tsp baking powder
Start by preheating the oven to 180C or 160C for fan ovens.
In a large bowl, put all the ingredients and incorporate them with a wooden spoon. Use your hands to form a very sticky dough. No worries, this is how the dough should be like.
Put some water in a flat bowl, big enough for you to put your hand on. Also, if you are weighting in each ball, as I did, put a clean bowl on the scale. Using your wet hands, make a ball. Put it on a baking tray that was lined with baking paper. Wet your hands again and make another ball and so on.
The cookies are not hard to make if you make sure your hands are wet. Else, the dough will stick to your hands. After you've made all the balls, put the baking tray in the oven. Bake for 15 to 20 minutes, until the cookies are golden and done.
Take the tray from the oven. Leave the cookies to cool on the baking tray for 10-15 minutes, before transferring them to a serving plate.
This is how the cookies look inside.
Do you like coconut? Is it Chaclama something you'd like to try?