The Great British Bake Off starts today. As last year, I'm going to bake at least one of the challenges each week. The show starts with Cake Week and the three challenges are: British classic cake as a signature, the technical challenge is a fatless sponge and chocolate work. There aren't more details about the showstopper, but we'll see them tonight.
Last series ended with a classic British cake and I've made a carrot cake, it wasn't the best looking carrot cake, but it tasted delicious. This time I made a Classic Victoria Sponge as it can't get more classic than that. I loved the cake, it's delicious.
I also made a little mistake, that was annoying. Instead of baking the sponge in two baking trays, I've baked them in a big one. As the recipe stated the temperature and baking time for one, I had to "wing-it". The cake has risen, but I took it off the oven a minute or two faster than I should have and the middle sink a little. Next time I'm baking in two trays or I would leave it a little bit longer in the oven.
Ingredients for Classic Victoria sponge, 8 servings:
– 225g soften butter
– 225g self-raising white flour
– 275g sugar
– 4 eggs
– 1 tsp baking powder
– 300ml whipping cream
– 20g icing sugar + 1 spoon of icing sugar to decorate
– 400g fresh strawberries
Start by making the jam. Wash and cut the strawberries in big chunks. Sprinkle 50g of sugar on top and leave it so the fruits will release their juice. Put the saucepan on the hob at low to medium heat and stir from time to time. When the jam is ready, take it off the heat and leave it to cool. The jam should be cold before spreading it on the cake.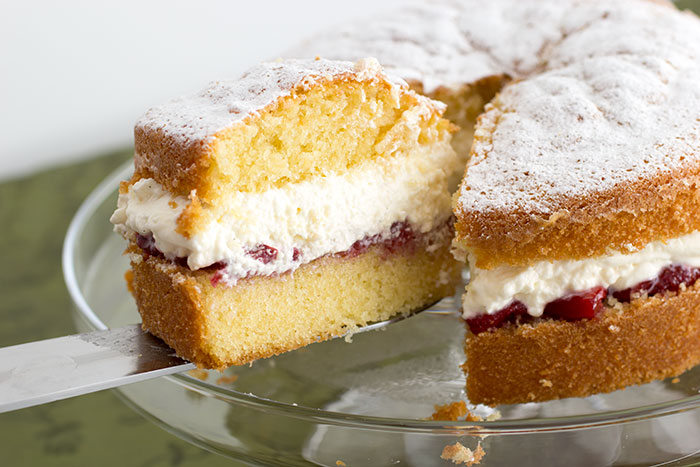 Oil a baking tray (or two, if you decide to bake the layers individually). Preheat the oven at 180C or 160C fan.
In a food processor add the flour, butter, eggs and the remaining 225g of sugar. Mix it for a couple of minutes. Pour the cake batter into the baking tray and bake it until it springs back if touched. When the cake is baked, take it out of the oven and leave it to cool for a couple of minutes in the tray. Take it out of the tray and leave it to cool completely on a cooling rack.
Cut it in half with a bread knife. Whip the cream with the icing sugar for a minute or two. Spread the jam on top of the first layer, add a layer of the whipped cream and the second layer of sponge on top. Sprinkle icing sugar on top to decorate.
You can spread the whipped cream and after that the jam, it's the same thing.