My husband was ecstatic when he saw the technical challenge at Great British Bake Off: Savarin. I was ecstatic when I saw the showstopper: Fondant Fancies. He loved syrupy desserts, I don't like them at all. In Romanian cuisine, savarin (called savarine) is one of most common desserts, it is a dessert we both had as  children. I kept an open mind looking at the show and it seems the recipe they used didn't have a lot of syrup. I agreed to make them, especially when my husband was hands-on in the kitchen and he loves them.
The French recipe asks for alcoholic syrup, but we made it without any alcohol. Instead I used syrup from canned fruits, they added the flavour and made the dessert really special.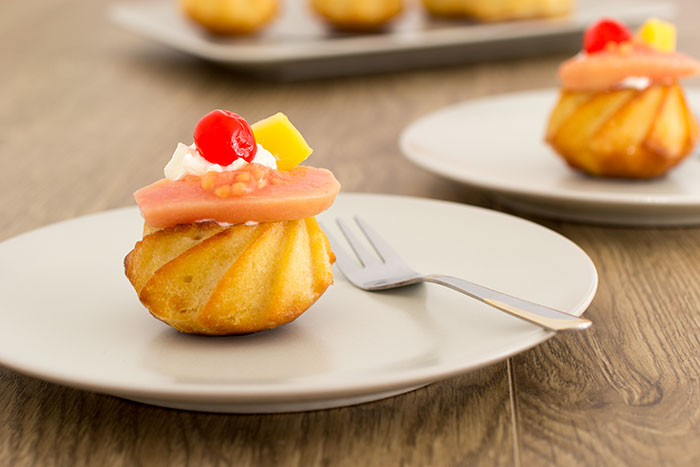 Ingredients for 12 mini-savarins or a big Savarin:
– 250g self-raising white flour
– 2 eggs
– 150ml warm milk
– 30ml oil
– 5g yeast
– 1 spoon of caster sugar
– 1 can of Guava in syrup
– 1 can of Mango in syrup
– 12 cherries from Opies Red Cocktail Cherries*
– 300ml whipping cream
– 25g icing sugar
Make the dough by mixing the flour with the eggs, warm milk, oil and yeast and the caster sugar. Use the hand mixer or a silicone mixing spatula. The dough should be very wet and it's not possible to mix by hand. Leave the dough to rise for 1 hour or until doubled in size.
Oil the Bundt baking tray and fill it 2/3 with dough. Leave it to rise for another 15 to 20 minutes. Meanwhile pre heat the oven at 180C or 160C fan. Bake for around 25 minutes, until the buns are golden brown. Remove them from the oven and leave them to cool in the baking tray for a couple of minutes. Take them out the baking tray and put them on a cooling rack to cool completely.
When they are cold, soak them for a few seconds in the syrup from the Guava and Mango cans. Leave them overnight, if it's possible. Whip the cream with the icing sugar. Pipe the whipped cream in the middle of the buns and place the fruits on top.
The savarins are ready to be served.