As usual, I took pictures of the food I prepared for Christmas and I'm making a round-up with all the dishes. Initially I thought I would like to make a vegan Christmas, but I had two problems. First of all we bought a bottle of craft Gin, made in Yorkshire, from a foodie fair, and that one had cream in it. I didn't realize it has cream when I bought it and just thought about the taste. Furthermore, the Christmas cake has eggs in it, as I haven't had the time to try a vegan version. Swapping butter for margarine is very easy, but the eggs are more complicated. These two are the only reasons our Christmas menu was not 100% vegan.
I served the food à la française.
For starters I made a bit of okra with sesame seeds, mutabbal, and baked aubergines with red and green pesto. The okra was made the day before Christmas, the mutabbal took only a minute to make, as I've used ready charred aubergines. I also baked  bread and some green peppers.
I got some Kevin the carrot puff pastry and filled it with orange and purple carrots, roasted. It was very easy to make them, I just put them in the oven with a bit of oil and some water and left them to cook. I also made a few filo pastry cases, filled with oyster mushrooms and a mix of vegan cheese. Vegan cheese has such a nice texture when baked and it tastes less fatty than dairy cheese, so it works great with filo pastry.
I baked the aubergines on the 24th, and filled and baked them for 10 more minutes on the day. Both types of pesto were shop-bought and marked as vegan. It was a very easy dish to make, not having to do a lot to it before serving it.
At my husband's request, I've made a sour soup with vegan "meatballs". I used borscht to give it the traditional sour taste. I've also added roasted onions, carrots, and pepper paste.
My plan was to buy some vegan sausages with vacon (fake bacon) wrapped around it, as it is for pigs in blankets. They were sold out, so I've decided to get some Tofurky sausages for main and pair them with fried sauerkraut. It was delicious. As we had a lot of food, I only heat up a small amount.
Our second main was a pie with a hot water crust. The filling was appropriate for Christmas: chestnuts, chickpeas, roasted onions, and pepper paste. It was delicious. I prepared some potatoes, but in the end I've roasted them on Boxing day.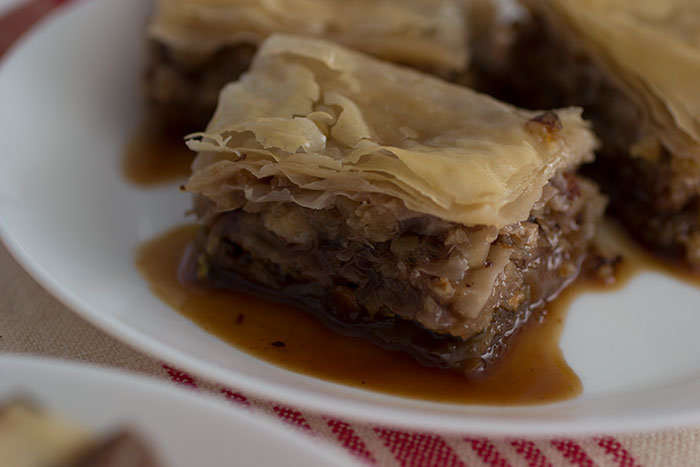 Cinnamon baklava was a Christmas inspired baklava. It is a less fatty version of the one I linked to. It was really good, so I'm going to make it again and share the recipe for it.
Mince pies are a must on our Christmas table each year. This time I've made the same recipe for mincemeat that I the first time. I changed only the pastry, as that one was not vegan.
Amazingly, these filled dates were one of the best things I had for Christmas. They seem so easy to make and uncomplicated that I didn't imagine they would be so good. The ones on the left are filled with pistachio butter, after that covered in chopped pistachios. The ones on the right are filled with rose water marzipan. I loved both and I'm going to make these again. I can't emphasise enough how much I loved these.
Shop-bought vegan Christmas pudding and shop-bought vegan vanilla ice cream. I got both from the supermarket and they were delicious.
My Christmas cake turned out amazing. It's the same recipe as for the Oxford cake, but the marzipan is inside the cake, as it would be in a Simnel cake.  My husband and I did the decorations together. It is becoming a tradition, as we are doing this every Christmas and for Easter.
Besides the bows for the gifts and fireplace and the bell on top of the fireplace, everything else is made freehand. I loved making all sorts of different coloured fondant, including the marble top for the fireplace and the woody carpet-flooring sort of thing.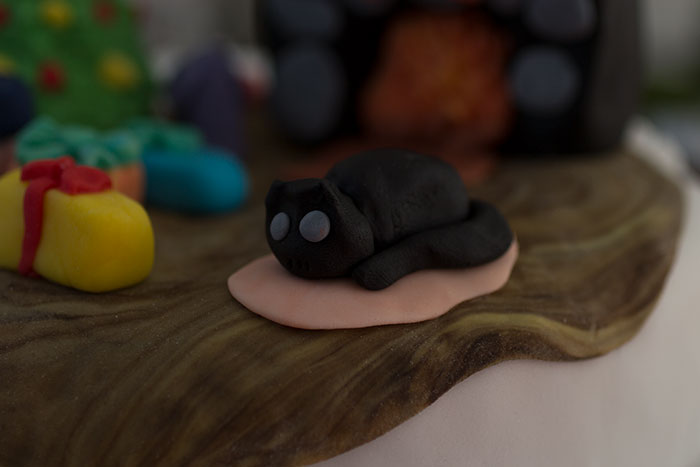 The cat is my husband's creation. I made the cute baby pink cat pillow.
This is what I prepared this Christmas. I had more ideas, but I didn't want to cook too much food and overeat. What was your favourite dish this Christmas?