Biscuits Chandelier, the showstopper at the Great British Bake Off, something I've decided I wanted to make after seeing the show. It seemed like a great idea as I already planned to bake lots of biscuits on Saturday. On Sunday I was going to a volunteers end of season meet up, and I said I'll bring biscuits.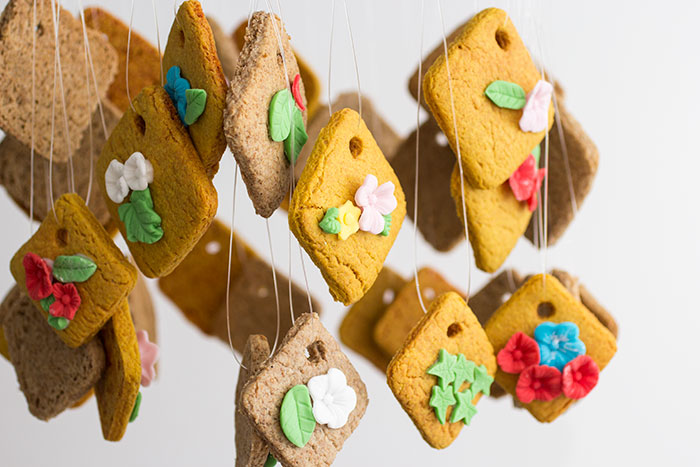 My schedule was like this: on Friday I've made the flowers and leaves to decorate. I made them the day before so they had a bit of time to dry up. On Saturday I've baked the biscuits. It took 1 hour and 10 minutes from start to finish to bake both batches, that means 60+ biscuits, including washing up. On Sunday morning I've put the decorations on the biscuits and left them to set, before hanging the biscuits and taking a few pictures. I wanted to make the biscuits chandelier bigger, but the steel wire was beginning to bend due to the weight of the biscuits, so I didn't put all on the wire. I didn't want to spend too much time constructing something sturdy, as it was just made for fun.
For the decorations I've used moulds, flower presses, and cutters. It is very easy to use them. I prefer the ones that are made of silicone and are a bit flexible. To glue the decorations on the biscuits, I've used a runny fondant, made with icing sugar and a bit of sugar.
Ingredients for the Biscuits Chandelier:
Turmeric biscuits
– 350g self raising white flour
– 150g sugar
– 1 free-range egg
– 1 tsp bicarbonate of soda
– 125g butter, soften, at room temperature
– 4 tbsp golden syrup
– 1 1/2 tsp Turmeric
– 1 1/2 tsp Ginger
Pepper biscuits
– 350g self raising wholemeal flour
– 150g sugar
– 1 free-range egg
– 1 tsp bicarbonate of soda
– 125g butter, soften, at room temperature
– 4 tbsp golden syrup
– 1 tsp Nutmeg
– 1 tsp Cardamom
– 1/4 tsp Black Pepper
– 1/2 tsp Cinnamon
For decoration:
– icing sugar
– water
– shop bought fondant in a few different colours
Make the dough for each biscuit type in a food processor. Put the flour, the sugar, spices, bicarbodate of soda, and butter cut in cubes. Blend it until it resembles breadcrumbs. In a bowl, beat the egg with the golden syrup. Pour the egg mixture over the flour and mix at medium speed until it starts to clump together. Tip over the worktop and knead. Cover in cling film and put in the fridge for 30 minutes. Do the same with the second batch of biscuit dough.
Bake them in the pre-heated oven at 180C or 160C fan, for 10 minutes. Transfer them on a cooling rack and leave them to cool completely before decorating them.

The biscuits, decorated and ready to be hanged to form the Biscuits Chandelier.
Each biscuit is decorated uniquely. I was able to do this because I've had a few colours of fondant and a lot of tools. To make sure I'm not making the same biscuit twice, I've put the biscuits on these big baking trays, so I could have a look at them while I was decorating the new ones. I do enjoy doing this.
I've used a bit of nylon transparent thread, bought from a fishing shop. It was very easy to put up. Not sure how realistic a biscuits chandelier might be for a showstopper, so it's unlikely I would ever make it again. But I'd like to make some other biscuits showstoppers in the future.
Part of Bake Off Bake Along.