I bought a Bosch MUM4807GB Stand Mixer 6 months ago and I've been using it quite often. This is why I thought I should talk about it on my blog. The main reason I got the mixer was to knead small batches of dough for bread. It has more features, but I will talk about the things I've used it.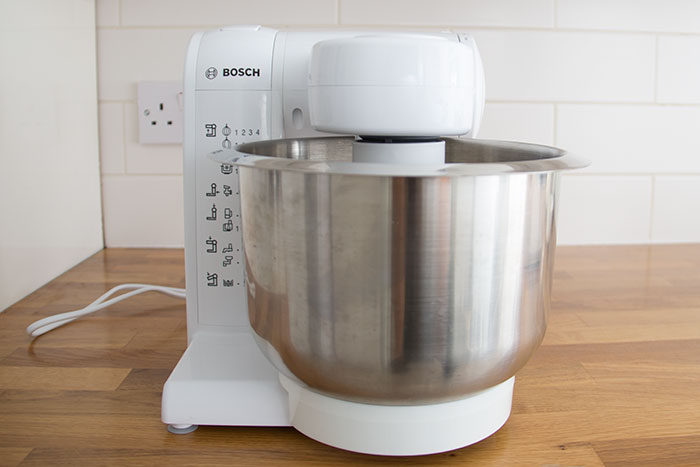 The stand mixer is small and it's easy to store without a lot of hassle. It comes with a stainless steel, 3.9l mixing bowl and 3 attachments: whisk attachment, dough hook, flexible beater tool. It's powerful too, at 600 watts. These were the main reasons I got it. Also, it's very affordable, its price varies between £70 to £90.
Even though the main reason to get it was to knead bread dough, as I said earlier, I made other things with it too, like whipped cream and cake batter. It works out great. The only negative I have is that the bowl is thin and it can be uncomfortable as it presses on the hands when I take out the thick dough. It's not an issue with batter and cream, obviously.
Another small negative is that if you raise the beater when it is facing forward, it catches on the front edge of the bowl. I don't actually mind that, as I take the beater out gently, so it's not an issue for me.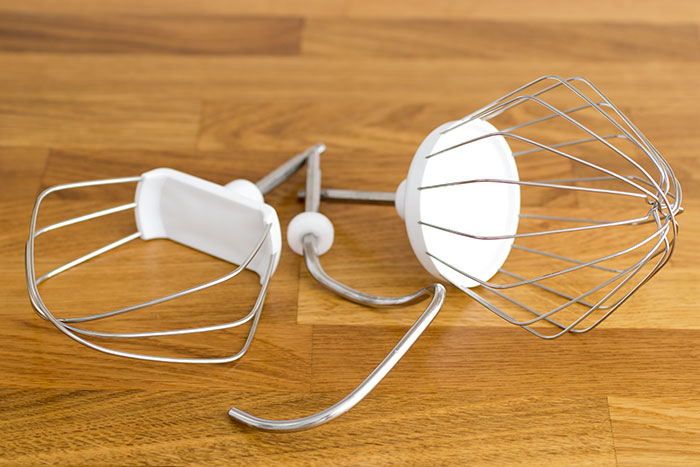 These are the attachments is comes with: flexible beater tool, dough hook and whisk attachment. The stand mixer has 4 speeds and the accessories are dishwasher safe. The bowl and the attachments are very easy to wash, so I can't be bothered to put them in the dishwasher as they would take too much space.
The accessories are easy to attach to the arm, similar to a hand mixer, click and that's it.
I only make bread with 450g or 900g of flour, as it's just the two of us and I prefer to bake often instead of baking a big batch. I usually use a mix of 50/50 white and wholemeal, strong flour. The dough comes out beautifully kneaded in 7-10 minutes, I never keep it for long as I don't want an overworked dough. As I use easy bake yeast, the bread is ready to go in the oven in 45 min.
If I would have used the Bosch Stand Mixer only for this purpose it would have been enough for me. I do bake bread 2-3 times a week in average, so it's very handy. I use the first and second speed for dough.
For cake batter is again, a life saver. I can put everything in the bowl and mix it for less than 5 minutes. It takes longer to pre-heat the oven than it takes to make the batter. It's great, the arm has a quirky sort of movement that means the batter is properly mixed in a short time without overworking the batter. For batter I use the first speed at the beginning so the flour will not go everywhere and then switch to 3rd speed.
For whipped cream or egg whites I use the 3rd and 4th speeds. It takes a couple of minutes to make them, so easy and handy. Again, I don't keep them for long because I don't like overdone whipped cream.
I am very happy with my Bosch MUM4807GB Stand Mixer and I would gladly recommend it. I was unsure if it will do the job, as it's not as expensive as others on the market, but so far it is great. It saved me a lot of time and Christmas and Easter preparations were so much easier with it.
Do you use a stand mixer? What do you think of my stand mixer? I would love to hear your thoughts.