The post might be named Christmas Menu 2020, but, in fact, it is with details about the food we've had from the 24th to the 26th. I always share the food I cooked, but this time is different. With the exception of an overnight bread, all the food was bought. I wanted to support small businesses which sell vegan food and my husband was keen on us not spending a long time cooking. I love cooking, but I wanted to try something new, so why not? We placed two orders for food, at Rudy's Vegan Butcher and at Planthood. I will share pictures from both. I also bought from the Vegan Kind Supermarket and a local vegan shop some plant-based cheeses and a trio of fake meats. The desserts are from a supermarket.
To make sure we don't overdo with food on Christmas, we've had some of the food on Christmas Eve and we've enjoyed the desserts before Christmas too, like the mince pies.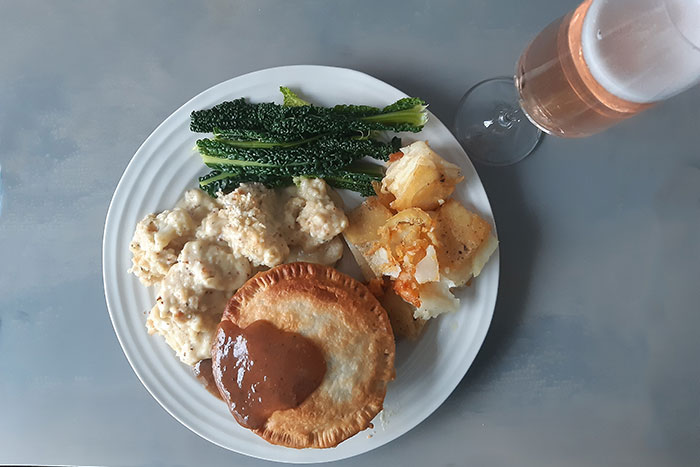 First of all, the Planthood Christmas box. We've decided to have this for Christmas Eve as it was meant for two people, while the other box was for 4 and we knew that will last for Boxing day. We received the box on the 23rd, as expected.
The food was amazing, I loved it. The pie had a cabbage layer and two fillings, including one with mushrooms which was delicious. It also had cauliflower cheese and that was garlicky and nice. The potato latkes didn't hold their shape while cooking, but it doesn't matter, they were really good. The gravy was made with red wine and I loved it. Overall I liked everything.
The cheese and "meat" board included two cold cuts from Rudy's and a selection of fake meats from the Vegan Kind. I've also included delicious cheese: two kinds of sourpress from Herbie's, two kinds of cheese from Tyne Cheese, and I Am Nut OK rigotta. I also got some vegan cheese from a supermarket, with cranberries. I can't even say which was was my favourite. I loved all of them, with the exception of the supermarket one, which seemed boring in comparison.
We've had some potatoes, veggies, and the meatloaf in crust. Wow, this was so good. In the Rudy's box we also had some meatballs, which were incredible. I don't think anyone would have guessed that those were not real meat. I want to buy more of this. It was amazing!
The "turkey" was delicious too and the gravy was thick and full of flavour. I liked the Brussels Sprouts too. It was a traditional British Christmas dinner and it was really nice. I couldn't have asked for more.
This cottage was from ASDA. It looked nice and it tasted good too. Glad to see the supermarkets are making such an effort with vegan food. I imagine many bought this dessert because it looked so good.
The panna cotta star was good, but a bit too simple for the price. I think Sainsbury's could have made a small change, to add a biscuit base which would have made it a bit more interesting and it would have been perfect.
This is how the order from Rudy's arrived. It had a page with instructions on how to prepare the food. They also added some snacks as gifts and I loved that.
This is how the Planthood food arrived, in recyclable boxes and compostable bags. Loved it. They too included some small pots of chocolate for dessert, which were lovely.
Did you have any vegan treats this Christmas?