My husband loves this dessert. We bought a Limoncello dessert from a supermarket on a holiday last year and we both enjoyed it so much we've decided to make it at home too. There isn't a specific recipe for it, as I searched online for what seemed like ages and there aren't lots of recipes. I think it's a shame as it's a fantastic dessert. It contains alcohol, so it's a grown-up dessert.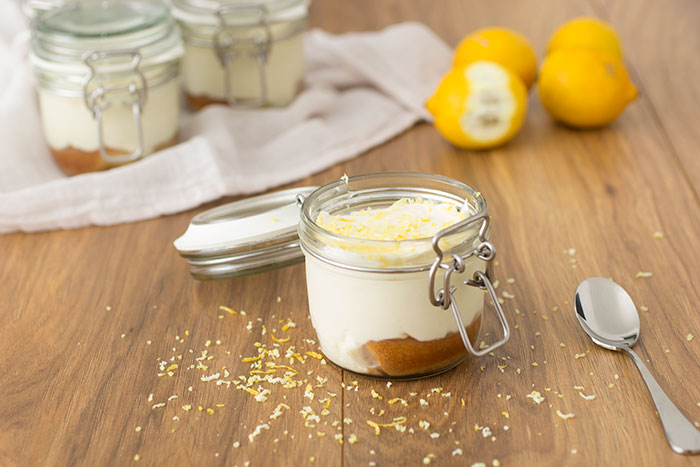 I tried a couple of recipes until I finally decided on this one. I added 100ml of Limoncello to my dessert, if you want a less boozy dessert, reduce to 75ml or 50ml. Limoncello is an Italian lemon liqueur, it's sharp with a little bit of sweetness. I think it's great on its own and in cocktails too.
Ingredients for 4 servings of Limoncello:
– 100ml Limoncello
– 250g light mascarpone cream
– 130 ml double cream
– 4 sponges
– 75g icing sugar
– 25g sugar
– 1 lemon rind for decor
Make a syrup from the 25g of sugar and 100ml water. Reduce it down and, when it's ready, remove from heat and leave to cool for a few minutes. Pour 50ml of Limoncello in the syrup and stir. Soak the sponges in the syrup and place them in the jars. Using a spoon, at the rest of the syrup. Leave for a few minutes so the sponge will absorb all the syrup.
Meanwhile, make the mascarpone cream by mixing the mascarpone with icing sugar with a spoon until it gets soften and smooth. Add the Limoncello and mix. In another bowl, whisk the double cream until it starts to get thicker. If you are using a mixer, use it on the slower pace so it doesn't turn into whipped cream. Pour the cream over the mascarpone and mix with the spoon. Scoop the mascarpone cream on top of the sponges.
Put the pots or jars in the fridge and leave them for a couple of hours. Sprinkle lemon rind on top before serving for decor.