This recipe for Merinque chocolate dessert has a funny story. I wanted to make tarts, for my baking along the Great British Bake Off, but I was camping with the caravan and I had to buy ready made pastry casing. I didn't find any at the nearby shop that used sustainable palm oil, so I've decided to change the base and instead of tarts to make a dessert. Hence the merinque nests. I've used cherries in syrup for an extra flavour and paired these very sweet nests with a dark chocolate ganache, to balance it out.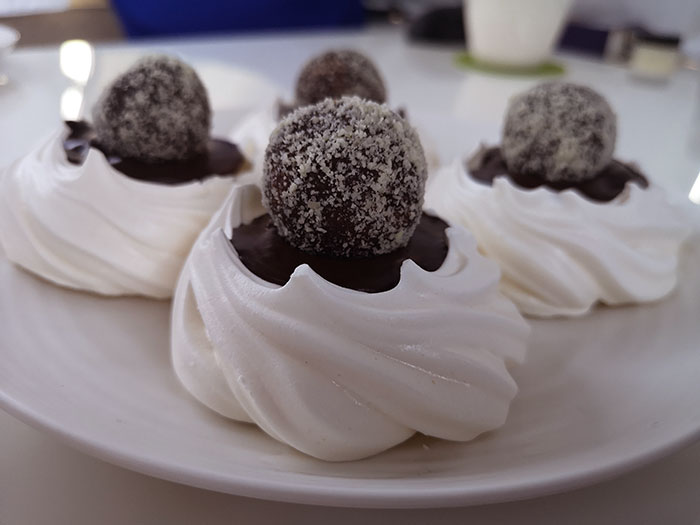 The rest of the recipe remained the same. I thought I should make energy balls and put one on top of each merinque, to have the requested dome. At home I would have made a mousse dome or something similar, but the fridge is too small for big silicone moulds (whose were at home as well). And so, this is how this recipe started. It turned out delicious and I'm very glad I've decided to make it like this.
All you need to make this recipe is a pan for heating up the milk and a blender for the energy balls. That's it. I made only 4 desserts, but the recipe is for 8. I had to make more energy balls because it wouldn't have been enough dates to make a paste out of them in the blender.
Ingredients for Merinque chocolate dessert:
– 8 meringue nests
– 100g dark chocolate
– 75ml soy milk
– 8 cherries in syrup
– 100g dates
– 100g ground almonds + a bit more for coating the energy balls
Put the merinque nests on a plate. Cut the cherries in small pieces and put them in the nests. Heat up milk and melt the chocolate in it. Add a bit more milk to get to the right consistency. Put chocolate ganache over the cherries. Keep the remaining ganache for the energy balls.
Put the dates in the blender and blend them until they turn into a paste. In a bowl, put the dates and the ground almonds and pour the rest of the ganache on top. Mix with a spoon until all the ingredients are incorporated. Leave the mixture to cool a bit, as it will harden and it will be easier to shape the balls.
Shape the balls and toss them in the ground almonds, so they get coated with almonds. Place a ball on top of each merinque nest. You might get a few more balls.
That's the dessert. You can put it in the fridge for a short while, so the ganache hardens a bit more. I think the dessert was great, not too sweet and delicious. On top of that, it is so easy to make.