I made this Passion fruit tart decorated with edible pansies and a hot water crust pastry. It's the first time I make a sweet pie with a hot water crust pastry. It was so good that I will make it again. I mentioned before that it's easier to work with as it's more stringy and easier to roll. Also, it's more forgiving than the standard pastry with more butter, as it doesn't need chilling.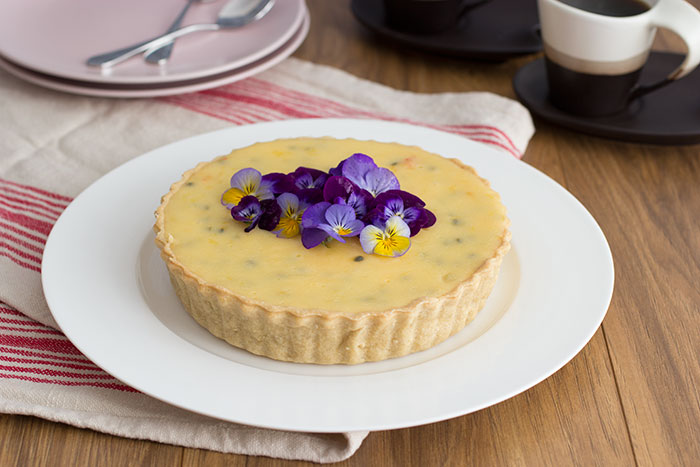 I love the sharp taste of the passion fruit curd filling. I think the filling can be kept in a jar in the fridge to enjoy as a curd. I will make it again like that.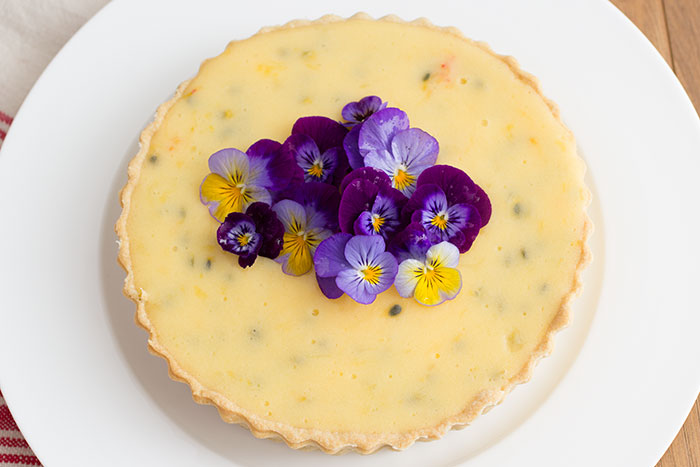 Passion fruit tart. Ingredients:
– 165g plain white flour
– 60g butter
– 75ml water (for the pastry)
– 120g sugar
– 40g cornflour
– 200ml water (for the filling)
– 5 Passion fruits
– 3 egg yolks
– edible Pansies for decor
Start by making the pastry, so it has plenty of time to cool. Boil the water with the butter until all the butter is melted. Pour it over the flour and stir it in with a spoon. Leave the pastry for a few minutes to cool down, so it's easier to work with. Tip on the worktop and knead for 5 minutes.
Meanwhile, preheat the oven at 180C or 160C fan. Roll the pastry and put it in the baking tray. Put baking parchment on top and fill it with baking beans. Put the tray in the oven to bake for 15 minutes. Take the pastry out of the oven, remove the baking beans and the baking parchment and put it back in the oven. Let it bake for another 10 to 15 minutes. Check to see if it's baked and take it out of the oven. Remove the pastry from the baking tray and leave it on a cooling rack to cool completely before being filled.
Make the passion fruit filling. Cut the passion fruits in half and scoop the juice and seeds in a bowl. Mix it with the cornflour and water. Pour the mixture into a pan and bring it to boil. Stir over the heat until is thicken. Take off the heat when is ready. Meanwhile, in another bowl, mix together the sugar and the egg yolks. When the passion fruit mixture is a bit colder, pour it over the egg mixture and whisk with care. Transfer and stir over a medium heat until is thickened.
Leave to cool for 5-10 minutes and then pour the filling into the pastry case. Leave to cool a bit more, then put it in the fridge to set. Decorate with the edible pansies.
Have you ever had a passion fruit tart? What do you think of the flavours?