The pistachio cookies are a more indulgent version of the peanut butter cookies I've shared a few months ago. Those are a more basic recipe because they are made with peanut butter. The pistachio cookies are indulgent because they are made with pistachio butter and that is indulgent in itself. I thought these nutty cookies are great this time of year, as it is a moment to enjoy more luxurious desserts.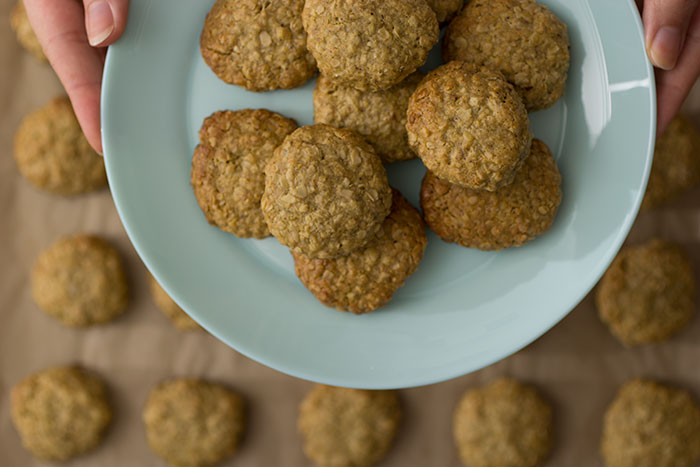 To enhance the flavour of the pistachio cookies I've added a bit of pistachio flavouring, just a few drops. You can add it or not. The pistachio cookies will keep for a week in an airtight contained, although, if might eat them before the week ends.
Ingredients for 30 Pistachio cookies:
– 300g porridge oats
– 200g pistachio butter
– 70g rice flour
– 100ml sugar syrup
– a few drops pistachio flavouring (optional)
– 100g sugar
– 120g coconut oil, melted
Make the cookie mixture by putting all the ingredients in a bowl and mix them with a spoon, until all the ingredients are incorporated. If you find it hard to incorporate, tip the ingredients on the worktop and mix them by hand. Line two baking trays with baking parchment.
Preheat the oven at 190C or 170C if you have a fan assisted oven.
Scoop the mixture with a spoon, weight it on the scale. Each cookie should be made from 29g of mixture and they will all look the same and bake evenly. Shape the cookies in our hands. Put the tray in the oven and bake for 10 to 15 minutes. I've kept them in the oven for 12 minutes, exactly as last time.
Take out the trays from the oven. Leave the cookies on the trays to cool for around 8 to 10 minutes. The cookies are still crumbly when hot, so don't move them. After the 10 minutes, transfer the cookies on a cooling rack and let them to cool down completely. You can now enjoy them, with a cup of tea or maybe a mug of mulled wine.
Have you ever made pistachio cookies? Is it something you'd like to try?