Halloween is one of my favourite holidays. I like to decorate the house, dress up, buy sweets for the kids that are coming to trick or treat and I cook special food like my black buns or the graveyard cake. When The Co-operative got in touch and offered me a few of their special treats for Halloween I was delighted.
It's an easy thing to do and it's fun.
I used the strawberry jam to create the veins on the doughnut. The jam is their own brand and I must admit it exceeded my expectations. I'm quite picky when it comes to jam because I usually make my own as I prefer more unusual flavours and I use less sugar. The co-op strawberry jam had the right amount of sugar and I still could taste the fruits. It's lovely and I would buy it.
In the middle of the doughnut I put a popping eyeball and it had the perfect size. It's from their range and it's delicious. The chocolate is very good and the middle is filled with strawberry mouse. It was a perfect match with the doughnut and the strawberry jam.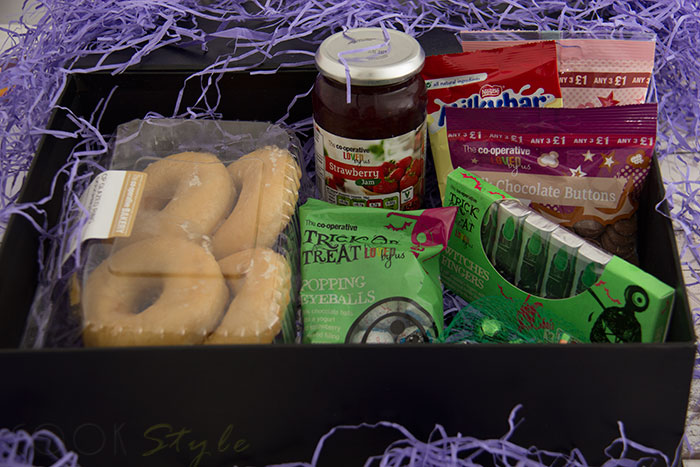 The box filled with goodies I received from them. The chocolate fingers are yummy, I liked the filling. I didn't try the rest of the goodies, but they must be delicious.
PR samples. All opinions are my own and I wouldn't recommend the items if I wouldn't think they are yummy.