I bought a tray for madeleines some time ago, but never used it until now, when I've made these Strawberry Madeleines with dark chocolate. This is French, so I've used a recipe made by Michel Roux Jr., as one can expect. It's not the first recipe I made using his ideas, as I've made carrot houmous after seeing one of his shows.
For my madeleines I've used simple flavours that work together, chocolate and strawberries. To make them I've only used a fork and a bowl, not a whisk or electric mixer and it was easy to make and also a bit relaxing, an old-fashion way to do a bit of baking. As I ran out of plain flour, I had to chose between using white self-raising or wholemeal. Imagine my surprise when I was looking in my cupboards and I was seeing all sorts of flours: rye, dark rye, bean flour, corn flour, rice flour, and so on… but not a plain wheat flour in sight. Anyway, I though the white self-raising was a better option, I just adjusted the baking powder and put slightly less that was in Roux's recipe. You don't need to faff with two types of flour if you have enough plain white flour.
I'm going to make these again and I'm going to make other flavour combinations too. It's such an easy to make dessert, and they are delicious, so fluffy. I've never had homemade madeleines before (as far as I can remember), but I know how the shop-bought ones are. You just can't compare the two, these fresh, light, and delicate little pieces of sponge are utterly delicious.
Ingredients for 18 Strawberry Madeleines:
– 80g plain white flour
– 20g self-raising white flour
– 100g butter
– 100g sugar
– 2 free range eggs
– 1/2 tsp baking powder
– a few drops of strawberry flavouring
– 30g dark chocolate
– freeze dried strawberries
– oil spray for the baking tray
Start by melting the butter. It will need to cool down slightly before using it, or it will scramble the eggs. I would suggest to transfer the butter in a glass measuring cup and it will cool down fast.
In a bowl, whisk the eggs with the sugar and the flavouring until they become frothy. It will take a short time and you can do that with a fork, as I did. Gradually whisk in the flour, that was previously mixed with the baking powder, and the butter.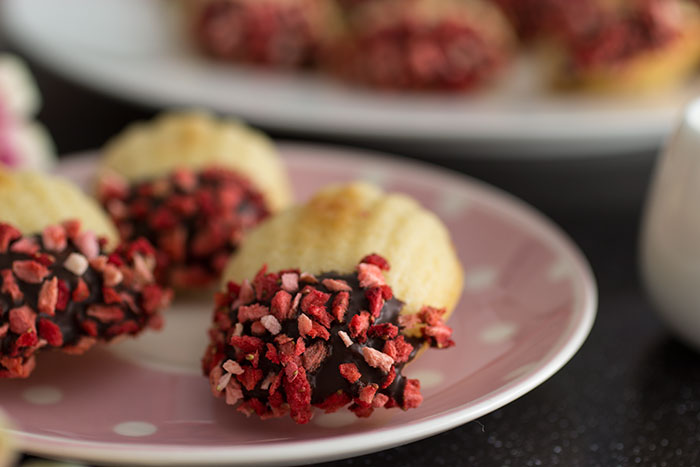 Leave the madeleines batter to rest for 20 minutes. Meanwhile, preheat the oven at 200C or 180C for fan ovens. Also, prepare the baking tray by spraying a bit of oil in each cavity and coat it using a brush. My baking tray is made of silicone, so it will be easier to get out the madeleines once they are baked. If your tray is metal, add more oil/melted butter. Additionally, you can dust the pan with a bit of flour.
Scoop the batter into the baking tray. Put the baking tray in the oven and bake for about 10 minutes. Mine took a bit longer to cook, I left them for just a bit over 11 minutes. Check with a skewer if the strawberry madeleines are cooked all the way through.
Leave them to cool in the baking tray for a few minutes, then transfer them to a cooling rack to cool completely. When cold, dip in the melted chocolate and sprinkle the freeze dried strawberries on top.
Part of Bake Off Bake Along.