Today the Australians celebrate Anzaz day, so I'm going to share a recipe for Anzac Biscuits. Like usual when it comes to the recipes I include in my Taste the World challenge, I do a bit of research as well, not only on the recipe, but on its story too.
The Anzac biscuits get their names from ANZAC, the Australian and New Zealand Army Corps that was established in World War I. These biscuits were sent by wives and women's groups to soldiers abroad, as they are not made with eggs, so they keep for a long time. Also, the biscuits were made for public events and sold to raise money for the war effort. The first recipe appears in a cookery book in 1917, but with a different name. The coconut biscuits received their name after the war, in 1921. Today the biscuits are manufactured commercially. As the poppies in UK, the sale of these biscuits still raises money for the Royal New Zealand Returned Services' Association (RSA) and the Returned and Services League of Australia (RSL).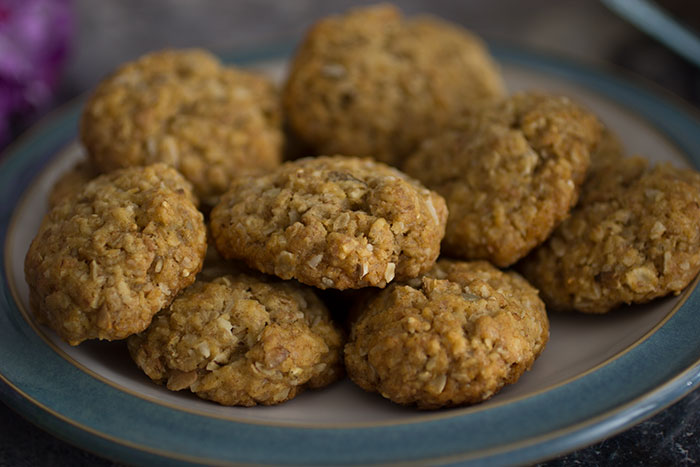 The Anzac biscuits I've made are vegan, as I've used vegan spread instead of butter. The only significant change I've made is that I've added some drops of lime flavouring. Skip the flavouring if you want traditional Anzac biscuits. Of course, I've reduced the sugar content as I thought it would be too much. For us, the biscuits were delicious, no need for extra sugar. Add 50g more if you want your biscuits to be sweeter.
Ingredients for 30 Anzac biscuits:
– 75g plain white flour
– 75g plain wholemeal flour
– 125g vegan spread
– 90g porridge oats
– 80g desiccated coconut
– 50g demerara sugar
– 50g caster sugar
– a few drops of lime flavouring
– 2 tablespoons golden syrup
– 2 tablespoons water
– 1/2 tsp bicarbonate of soda
In a bowl, put the flour, oats, dessicated coconut, and the sugar, mix. In a saucepan, put the vegan spread, water, and golden syrup. Heat the saucepan over medium heat and leave the spread to melt. Take off the heat and add the bicarbonate of soda and lime flavouring and stir. Pour it over the dry ingredients and incorporate using a spoon. If you find hard to mix with a spoon, tip on the worktop and mix by hand.
Heat the oven to 160C or 140C for fan assisted ovens. Line 2 baking trays with baking paper.
Make the biscuits, take a small amount of biscuit mixture and make into a ball. Weight them on the scale to make sure they are identical, if you want to. Bake the biscuits for 12 to 15 minutes. After you take the trays out of the oven, leave the biscuits to cool for about 10 minutes before transferring them to a cooling rack.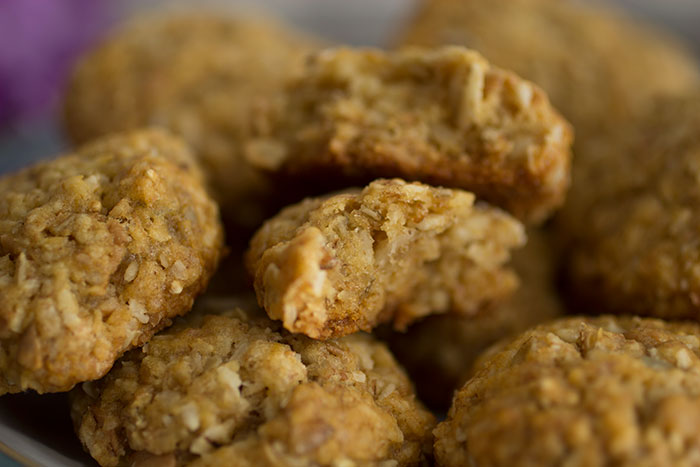 Have you ever had Anzac biscuits before?