I've made a Chinese Stir-Fry recently and, as I took some pictures, I am now able to share the recipe. I love both pak choi and shiitake mushrooms, so is not surprising that I think this dish was amazingly delicious.
In one of the supermarkets we buy from they have a tray with pak choi and mushrooms and I got two of those trays for this dish. As with all Chinese recipes, this one takes very little time to make, less than 15 minutes to prepare from start to finish.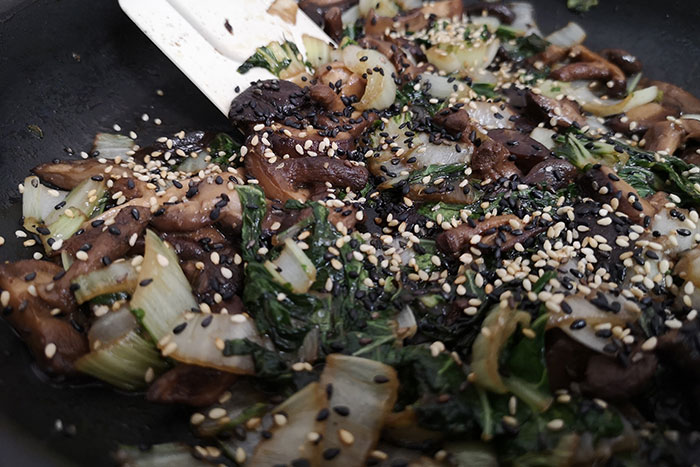 I've considered this as a starter, but it can be a side dish too, depending on what you are cooking. I think this would be great with a bit of baked tofu, for example. This is a vegan dish, as you can see from the ingredients. I've used light soy sauce because this is what I had, but any kind of soy sauce would be just as good. The shiitake mushrooms give the dish a meaty-kind of texture, but with the added bonus of low-fat and boosting vitamins.
Ingredients for Chinese Stir-Fry, 2 servings:
– 200g Pak Choi
– 200g Shiitake mushrooms
– 2 spoons of sesame oil
– light soy sauce
– Chinese five spice
– white sesame seeds
– black sesame seeds
Start by washing and chopping the vegetables. Put a frying pan over high heat, as high as you can. Pour the sesame oil and toss in the vegetables. Stir so they don't catch the bottom of the pan. The veggies should be ready in around 10 minutes. Pour the soy sauce and the Chinese five spice and stir, so the spices are incorporated in the dish.
When the vegetables are done, take the pan off the heat and sprinkle the white and black sesame seeds on top. Now the dish is ready to be served.
Do you like Chinese food? What kind of veggies do you add to your stir-fry? If you want to see a similar recipe, check Pak Choi with Mushroom, it's even more basic than this one.