I love Fondant Fancies even though I don't like particularly sweet desserts, this one is an exception. I buy them from the well-known brand, but only their special range for Halloween or Christmas as their usual fancies aren't vegetarian. The red food colouring they use is not vegetarian.
I wanted to make fondant fancies at home for a long time, but there are so many things I want to try and they are time consuming to make. When the showstopper of the Patisserie Week was fondant fancies, I had to make them. My husband said he would like coffee fancies and he had a great idea. I made a fat-less sponge with mascarpone coffee cream and white icing.
Ingredients for 9 Coffee Fondant Fancies:
– 6 eggs
– 60g sugar
– 60g white flour
– 50g soften butter
– 250g full-fat mascarpone
– 150g icing sugar (for the cream)
– 1 spoon of instant coffee
– 250g white fondant icing
– cocoa for dusting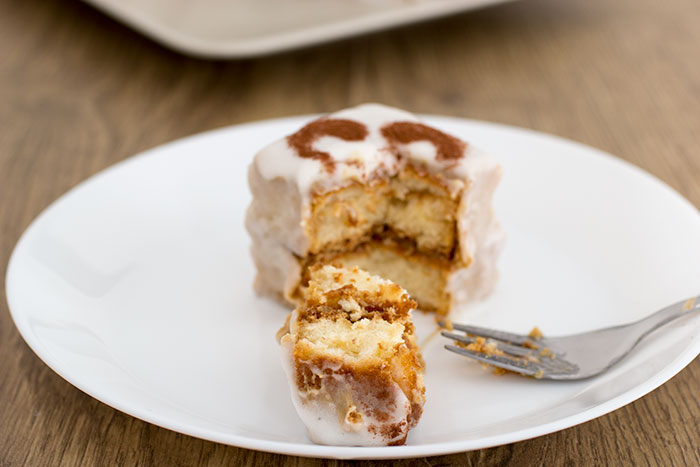 Make the sponge because it needs time to cool before cutting. Preheat the oven at 180C or 160C fan. Whisk the egg whites with the hand mixer until they hold firm peaks. Mix the egg yolks with the sugar until pale and thick. Incorporate the egg yolk mixture and the flour into the egg white mixture by carefully folding them in.
On the baking tray, put the baking paper lining and spray a little bit of oil. Tip the mixture and spread it evenly with a knife. Bake for 25 – 30 minutes. The sponge is ready when it springs back to touch. When is baked, take it out of the oven and leave it for a minute or two, then remove it from the tray. Leave it on a cooling rack until is cold.
Make the mascarpone cream by mixing the butter with a little bit of the icing sugar. Add the mascarpone and the rest of the sugar and mix. In a small bowl, put the instant coffee and a spoon of boiling water to dissolve it. Add more boiling water if it's needed. When the coffee has dissolved completely, pour it over the cream and mix again. Mix until the coffee is incorporated. You can chill the cream in the fridge until used.
Cut the sponge in small pieces. Put cling film on a big baking tray and put the cooling rack on top of the tray. Sandwich two pieces of sponge together with cream. Cover the fancie with cream. Place them on the cooling rack.
Make the icing by mixing the fondant icing with the hand mixer. Add 40g cold water and mix until the icing is smooth. Check the consistency and add more water to make it suitable for pouring. Don't add too much or it will be too thin. Pour the icing on all the fancies. Using a coffee stencil template, make the shapes on top of the fancies with dusted cocoa.