I shared a recipe for pumpkin soup last year. I usually make modifications to the recipes I've made before because I want to try something new. So, the soup I'm sharing today is different, it's vegan and is made with roasted pumpkin. To enhance the taste of the roasted pumpkin, I've also added smoked paprika, so the soup will have a stronger taste of roast.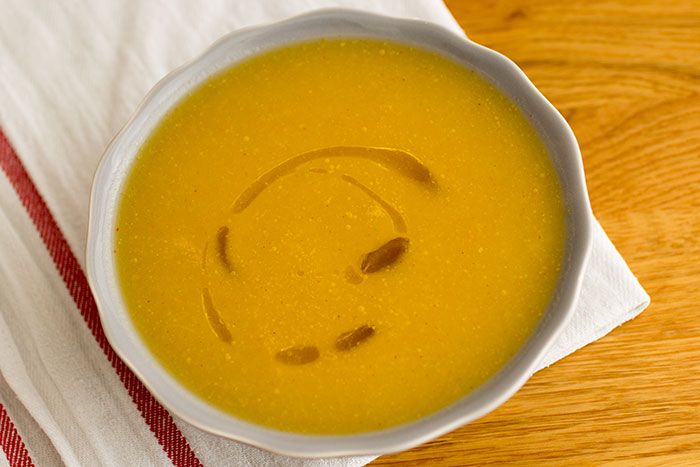 At 140 calories per serving, the pumpkin soup is perfect if you are on a diet or you are looking for a way to lower your caloric intake at one meal. The addition of olive oil makes it very healthy too. As I'm baking along the Bake Off and that means I eat a lot of cake, I try to have as many healthy meals as I can the rest of the time.
Ingredients for 6 servings of Vegan roasted pumpkin soup:
– 1kg roasted pumpkin
– 150g mix veggies (carrots, cauliflower, peas)
– 500ml vegetable stock
– 1 tsp sea salt (maybe less, depending on what stock you use)
– 1/2 tsp white pepper
– 1 tsp of smoked paprika
– 6 spoons of olive oil
Wash and cut the pumpkin in big chunks. Preheat the oven at 180C or 160C fan. Place the pumpkin on a baking paper and roast it in the oven for 60 – 70 minutes.
When the pumpkin is done, put the chunks in the blender, add the veggies and the stock and blitz. If it's too much, make the soup in two batches. Put the soup into the pan and put it back on the heat. Add the spices and stir. If the soup is too thick, add more stock or water. Leave it to boil for a few minutes.
The soup is ready to be served. Pour the soup in the bowls and drizzle a spoon of olive oil on each bowl.
Enjoy! I hope you liked my vegan roasted pumpkin soup.