I'm smitten with homemade houmous. I like the simple, basic recipe, or with other flavours, like sundried tomatoes or roasted peppers. It's so easy to make it from scratch and using some tricks, it doesn't take long.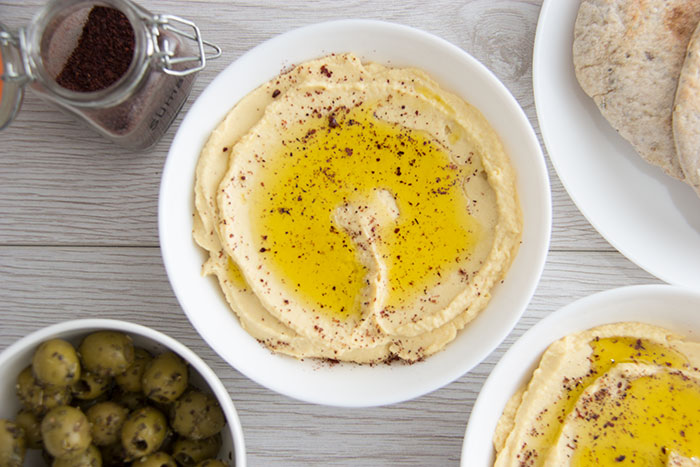 Ingredients:
– 200g dried Chickpeas
– 2 small lemons (or 1 if it's big)
– 2 big spoons of tahini
– bicarbonate of soda (1-2 spoons)
– ground cumin
– olive oil
– sea salt
– garlic
Soak the chickpeas in water overnight. This way it will be much easies to boil them next day. Here comes the most important trick: I add 1 spoon of bicarbonate of soda. Letting the chickpea soak in water with bicarbonate it cuts the time of boiling to 1 hour.
In the morning, wash the chickpeas in cold water. Put it to boil and add another spoon of bicarbonate of soda. The batch I made for this recipe took only 1 hour and 5 minutes to boil. Considering that without the bicarbonate it would have taken 2 to 3 hours at least, it's a very neat little trick.
Keep a few peas to decorate the plate, everything else goes into the food processor. Pour the lemon juice, the tahini and blend it. In a couple of minutes the houmous is ready. If it's a too thick, add some warm water. Do that until the houmous has the consistency you are looking for, blending thoroughly each time.
Add the ground cumin at the end. Taste and make a few small adjustments with salt and lemon if they are necessary. Blitz again so all the ingredients are incorporated. The houmous is now ready to be served.
To serve, I always use Sumac (the red-purple with a sour flavour spice), olive oil or spicy olive oil (mix of olive and rapeseed oil with chilli flakes). Of course, pitta and olives. Homemade houmous is really delicious. Do let me know if you tried it.