I bought recently a silicone cake mould perfect for cheesecake. A slice (from 8) has: 324.7 calories; 7.7 g proteins; 15.5 g fats; 40.1 g carbs; 2.8 g fibers.
Ingredients for the crust:
– 115 g wholemeal flour
– 1 free range egg
– 60 g unrefined sugar
– 1 spoon of oil
– baking powder
– 120 ml water (I usually use milk, but I ran out of it when I made the cake)
Mix the flour with sugar and baking powder. In another bowl mix the egg with the water and pour it on the dry ingredients. Mix them well and put the batter in the cake mould. Bake it at medium heat.
Ingredients for the filling:
– 400 g full fat soft cheese
– 250 g full fat yogurt
– 60 g sugar
– 3 bananas
Mixed 2 bananas and the sugar in the food processor. After they were blended, add the soft cheese and the yogurt and mix them at a regular speed until the mixture is thick. Pour it on the crust and let it cool in the fridge over night.
Next day removed the mould.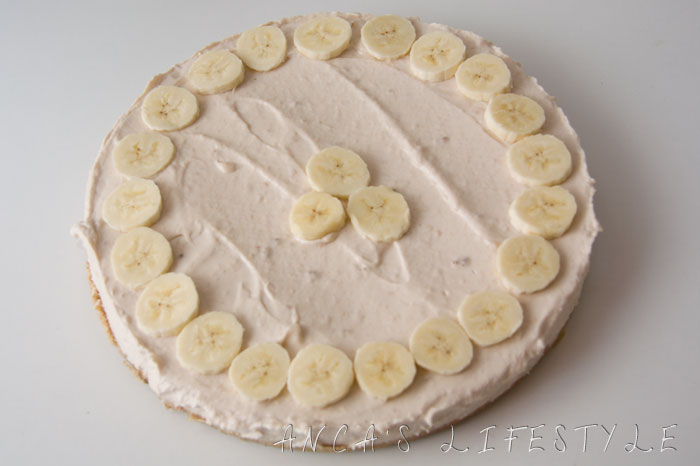 Use slices from the 3rd banana on top, as decoration.
Enjoy!