I bought some Chestnuts because I really wanted to cook with them. I thought of a pie, but when I didn't have loads of time I've ended up with a Chestnut and Brussels sprouts side dish for some vegan sausages. This recipe is vegan too and also delicious. I used only 3 spoons of oil, so that makes it perfect if you are on a diet.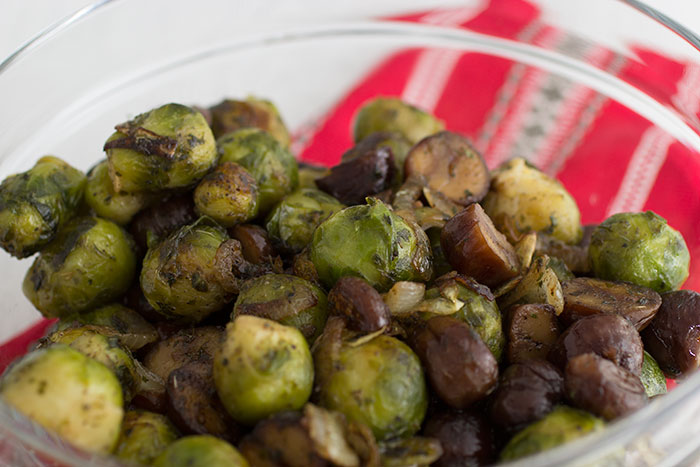 Ingredients for 4 servings:
– 500g frozen Brussels sprouts
– 200g cooked Chesnuts
– 3 spoons of oil
– 1 small onion
– 2tsp dried parsley
– salt
– black pepper
Defrost the Brussels sprouts in boiling water. If you want to use fresh Brussels sprouts, boil them for a few minutes. Drain and leave them in the colander.
Wash and peel the onion, cut it. Heat a frying pan and add the oil. Toss in the onions and stir. While the onions are cooking, cut the chestnuts in 2. Stir the onions from time to time so they don't catch the bottom of the pan. Toss in the sprouts and cook for a couple of minutes. Add the chestnuts, the salt and pepper and stir again.
Leave them on the hob for 3-4 minutes and add the parsley. Stir and leave to cook for another couple of minutes.
The chestnuts are ready to be served.
Do you like chestnuts? Tell me your favourite recipe.