This year I've made a different kind of advent calendar to help us celebrate Christmas. Each day we have a game, a drink or song/carols, and a dessert. On one of the days, the dessert was cupcakes. This meant the perfect opportunity to make the vegan mulled wine cupcakes I was thinking about.
I've used a recipe to guide myself and that was a mistake, as I didn't have enough batter for 6 full size cupcakes, but I've used a full size tray. So, I've ended up with 6 smaller size cupcakes. I will mention the amounts I've used, but if you want bigger cupcakes, make only 4.
These vegan cupcakes are amazing. It's the first time I've made dairy-free and egg-less cupcakes. I've made dairy-free cupcakes before, but I've used eggs. Now I'm so impressed with these ones, that I think I'll always make vegan cupcakes from now on. I might try to bake the batter as a cake too. Maybe a mulled wine cake, that sounds like a great idea for Christmas.
Despite the name, the cupcakes are alcohol free. Last year I've shared a recipe of mulled wine for kids. I've used grape juice, with no added sugar, instead of wine. The flavours of the spices will make the drink very similar to the adult version, but it's a drink that anybody can have.
For decorating I've used my new fondant cutters to make these cute snowflakes. The icing is made with green superfood powder. I have green food colouring, but I would rather use a healthy version. The superfood powder I've used is what I would add to my morning smoothies. It's a mixture of wheatgrass powder, spirulina, coconut flour, goldberry, and coconut sugar. Any kind of green powder would work just as good. I will try to add it to bakes too, to see if I can replace the food colouring with something that is actually very good for us.
Vegan Mulled Wine Cupcakes. Ingredients for 6 smaller cupcakes:
– 75g white flour
– 50g wholemeal flour
– 55g sugar
– 175ml grape juice
– 3 spoons oil
– 1/2 sp cocoa powder
– 1 tsp baking powder
– 1 pack of spices for mulled wine
Ingredients for icing and decorating:
– 50g icing sugar
– 1/2 tsp green superfood powder
– freeze dried strawberries
– white fondant snowflakes
First of all, start by heating the grape juice in a pan with the pack of mulled wine spices. Bring to boil, then take off the heat and leave to cool.
Pre-heat the oven at 180C or 160C fan. Put all the ingredients in a bowl and mix with a spoon. It will take only a minute or so to mix it. You can use a hand mixer, but I think it's easier to do it by hand.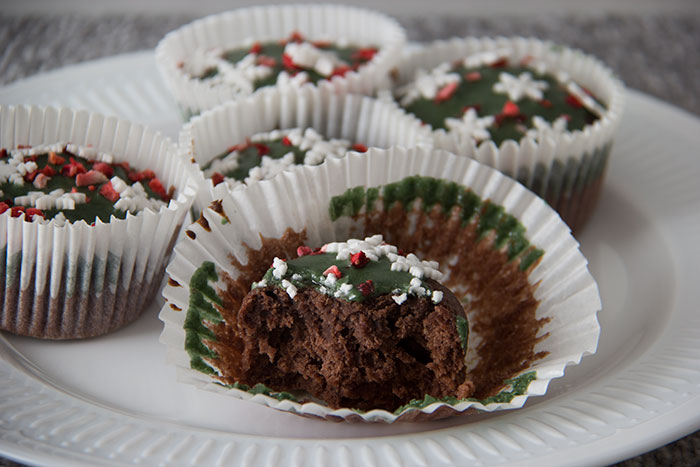 Oil the cupcake cases and put them in the cupcake tray. Spoon in the batter and put the cupcakes in the oven. Bake for 10 minutes, turn the tray and leave for a couple more minutes. Take the cupcakes out of the oven if they are baked. Leave on a cooling rack to cool down completely.
Meanwhile, make the icing to decorate the cupcakes. In a small bowl, put the icing sugar with the green powder. Add a teaspoon of water and start mixing. Add another teaspoon of water and see how runny the icing is. Add a bit more water if you think is necessary.
Pour half of teaspoon of green icing on top of each cupcake. Sprinkle the freeze dried strawberries. Add the snowflakes on top to finish decorating the cupcakes.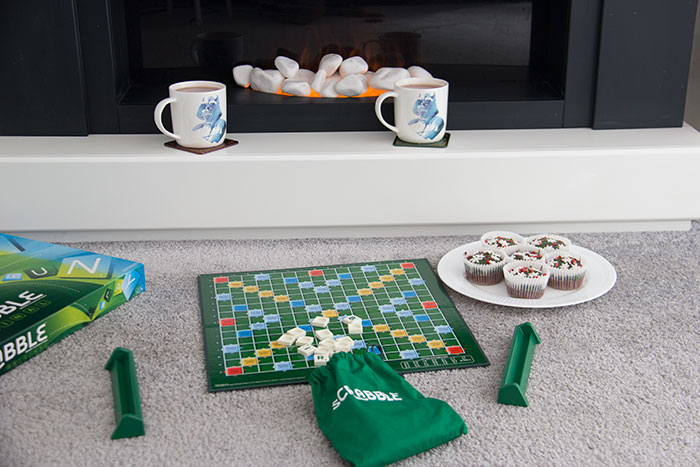 Besides the vegan mulled wine cupcakes, we've had hot chocolate in our Darth Vader mugs, and we've played Scrabble.