I made this cake to celebrate a decade of being vegetarian. It's a big thing for me, that's why I've wanted to celebrate it with an amazing cake; so I've made Chocolate Mousse Cake. I've decorated the cake with freeze dried strawberries and cocoa nibs, they add a lovely texture to the mousse cake.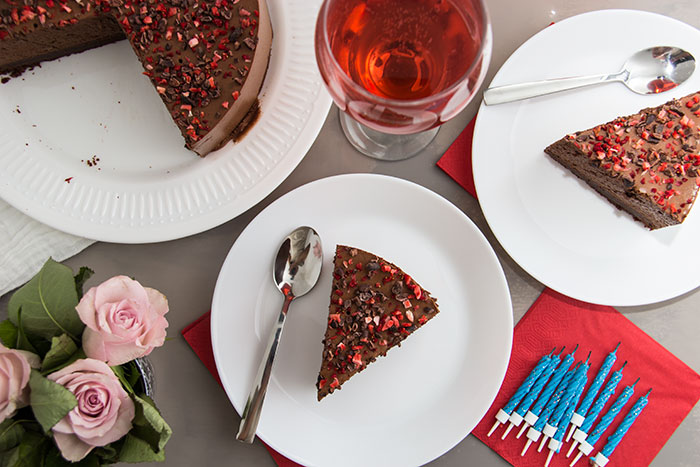 Chocolate Mousse Cake. Ingredients for the sponge:
– 125g white flour
– 55g sugar
– 175ml orange juice
– 3 spoons oil
– 1 sp cocoa powder
– 1 tsp baking powder
Ingredients for mousse:
– 200g dark chocolate, at least 70%
– 200ml milk
– 4 egg whites
– 2 egg yolks
– 1/2 tsp agar agar
– 60g sugar
Ingredients for decor:
– freeze dried strawberries
– cocoa nibs
Start by making the sponge. Pre-heat the oven at 180C or 160C fan. Put all the ingredients in a bowl and mix with a spoon. It will take only a minute or so to mix it. You can use a hand mixer, but I think it's easier to do it by hand.
Oil the baking tray and pour in the cake batter. Bake the sponge for 15 minutes, turn the tray and leave for a couple more minutes. Take the sponge out of the oven when baked. Leave on a cooling rack to cool down completely.
Put the sponge on the serving plate. Using acetate, make a sleeve around the cake. You don't need to oil the acetate, the mousse will set and it will be easy to remove.
Now make the mousse. Mix the milk with the agar agar in a cup. Heat the milk mixture in a sauce pan and bring to boil. Take the pan off the heat and toss in the chocolate cut into pieces. Mix with a whisk or a silicone spoon until the chocolate has dissolved and the mixture is smooth. Add the egg yolks, and continue mixing for a few minutes.
In another bowl, whisk the egg whites until they form soft peaks. Add the sugar and whisk fast for another 2-3 minutes. Add the chocolate mix and fold them in carefully with a silicone spatula. Do not overwork the mixture, it will affect the texture having too few air bubbles. After the ingredients are combined, pour the mixture on top of the sponge.
Sprinkle cocoa nibs and freeze dried strawberries on top. Refrigerate the chocolate mousse cake for a few hours, or overnight, before serving.
Do you like dark chocolate mousse? What do you think of my chocolate mousse cake?