It's chocolate week, best week at Great British Bake Off. I was awarded star baker again by Jenny for my Religieuse a l'ancienne and I'm so proud and happy for this. I made a small tart of 18cm diameter.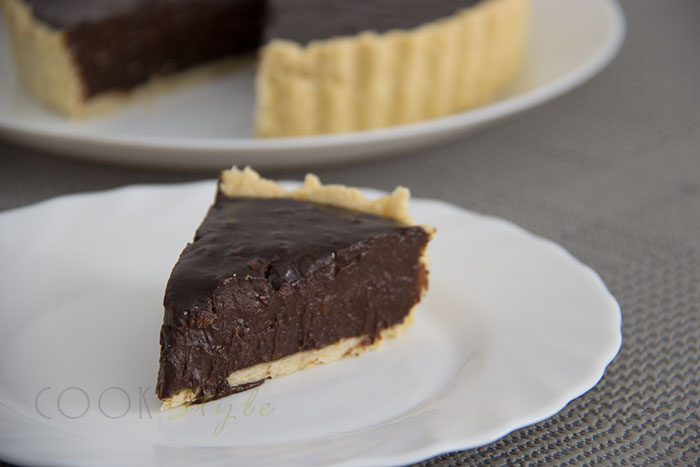 Only this morning, when I was setting up the linky I realized that the pastry should have been a chocolate one. When I told hubby this, he immediately said I should make another one. I'm sure he was thinking only at the #GBBO and had no ulterior motive to eat a second one. So, it's possible that I will make another tart, for the sake of the challenge.
Hazelnut dark chocolate tart – Ingredients for the pastry:
– 120g plain flour
– 60g butter at room temperature
– 10g sugar
– 3 spoons of milk
– 4 drops of hazelnut flavour
Hazelnut dark chocolate tart – Ingredients for the filling:
– 150g dark chocolate
– 50g milk chocolate
– 150g chopped hazelnuts
– 300g double cream
– 2 spoons sugar
– 1tsp vanilla paste
Preheat the oven to 200C / 180C fan. To make the pastry, rub the butter into the flour and sugar until it resembles breadcrumbs. Put the flavour in the milk and stir. Add the milk gradually and mix the dough. On a floured surface, roll the pastry thinly. Line the tin with the pastry. Put a piece of baking parchment on top of the dough and put the baking beans.
Blind bake the pastry for 12 minutes. Take it out of the oven and remove the baking parchment with the baking beans. Reduce the temperature at 180C /160C fan and put the pastry back in the oven 10 minutes.
When the pastry is baked, put it on a cooling rack and let it cool completely.
To make the filling, bring the double cream with the sugar to boil in a sauce pan. Remove from hob and add the vanilla paste and chocolate. Mix well until all the chocolate has melted. Add the chopped hazelnuts and incorporate them into the cream.
Leave the filling to cool slightly before pouring it into the pastry casing. Leave it to cool at room temperature or faster in the fridge until it sets.
You can also enjoy a slice of this amazing hazelnut dark chocolate tart with some fresh raspberries.