Imagine my delight when I was asked to try one of these delicious blender recipes*. After looking at them, I picked Homemade Flatbread with Tzatziki sauce. As I always do, I had to make things a bit more difficult for me, so I made two types of flatbread, one with white flour and the other one with spelt flour. I do love making bread and it's very appreciated in our home too.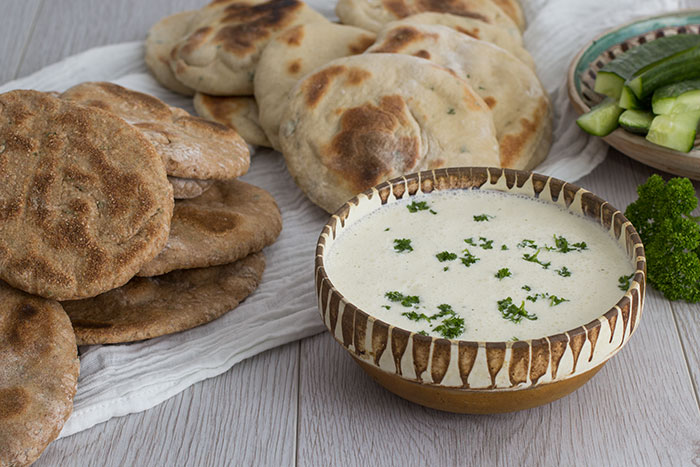 I made 10 white flatbreads and 10 spelt flatbreads. As it's a bit much, I freeze half of them. When freezing, the bread should be wrapped in a lot of cling film. Freeze on the day of making the bread. Let it in the fridge overnight when you want to defrost it. The bread will be very good.
I followed the recipes, the only thing I modified is that I added more fresh herbs. I used my own grown fresh herbs, but shop bought ones are just as good. I thought of adding garlic powder too, but it was enough garlic, so I didn't mention it in the ingredients, but it's an idea to keep in mind if you want an extra garlicky taste. I always use white pepper on white sauces because it looks better.
Homemade Flatbread with Tzatziki sauce. Ingredients for the Tzatziki sauce:
– 500g Greek Yoghurt
– 2 tsp Fresh Garden Mint
– 50ml Olive oil
– 1 clove Garlic Clove
– Sea Salt
– White Pepper
Ingredients for Spelt Flatbread:
– 500g Spelt Flour
– 1 tsp Easy-Bake Yeast
– 1.5 tsp Sugar
– 30ml Olive Oil
– Sea Salt
– 300ml Luke-warm Water
– 2 tsp Fresh Parsley
Ingredients for White Flatbread:
– 500g Strong White Bread Flour
– 1 tsp Easy-Bake Yeast
– 1.5 tsp Sugar
– 30ml Olive Oil
– Sea Salt
– 300ml Luke-warm Water
– 2 tsp Fresh Parsley
I don't have a breadmaker, if you have, it's easier. If not, it's pretty easy anyway. The process is the same for both.
Put all the ingredients for the flatbread in a stand mixer. Make sure the salt is not near the yeast and put the sugar on top of the yeast. Mix on slow speed for half of minute, increase the speed and leave for 6 minutes. If done by hand, knead for 10 minutes.
Put the dough on an oiled floured plate, sprinkle flour on top and cover with a tea towel. Leave to rise for 30 minutes. Do the same with the other dough for the second batch of flatbreads.
Meanwhile, make the tzatziki by putting all the ingredients in the blender and mix. It's that easy. Taste and add more condiments if you think it's necessary. Pour the sauce in the dish you are serving it in and put it back in the fridge until  serving time.
When the dough has risen, in 35-40 minutes, cut it in 10 pieces. Flatten it with the rolling pin and leave the flatbread on a baking paper. Cover with another baking paper until cooked.
Heat the biggest frying pan you have over medium heat. Put the bread in and leave to cook for 2 minutes, flip and leave it for another 2 minutes. Have a look to make sure the heat is not too high and the bread is cooked. Take it off the heat and put it on a cooling rack. Repeat with the rest of the bread.
My suggestion is to clean the pan after using it for 2 times with some paper towels. Make sure you use a few paper towels so you don't burn your hand. The whole reason is to brush off the burned flour.
The spelt flatbreads are lovely. They aren't as fully as the white ones are, but they have risen better. Maybe because spelt has more protein (10% more) than strong white flour, it's similar to very strong white flour.
My husband preferred the white ones, I liked them a lot. I will make them again with 50/50 white and wholemeal. It's a quick way to have fresh bread, as it takes less time than baking.
The tzatziki didn't set. I don't know why, so this is why I called it a sauce. It might be down to the yoghurt I've used, it was a Greek style, 10% fat. Anyway, I loved the sauce and it goes great with cucumbers and that amazing bread.
These are my versions of Homemade Flatbread with Tzatziki sauce. I hope you are going to try them as they are delicious. Also, have a look at their recipes, they are really nice.
*Collaboration.