It's been a while since I've blogged about ingredients, but I recently bought some pretty interesting ones and I'm going to share them on my blog. One of these ingredients is Kimchi. Kimchi is a staple in Korean cuisine. It is a side dish that is talked about in many health TV shows because its great health benefits. Kimchi is made from fermented vegetables, like Asian cabbage, seasoned with all kinds of spices, for example garlic, ginger, gochugaru (red Korean chilli). Many varieties contain jeotgal (seafood based condiment), but there are vegan varieties as well. The one I bought is vegan, made by LOVE KIMCHI. Here is their website (www.lovekimchi.co.uk) if you fancy buying some to try.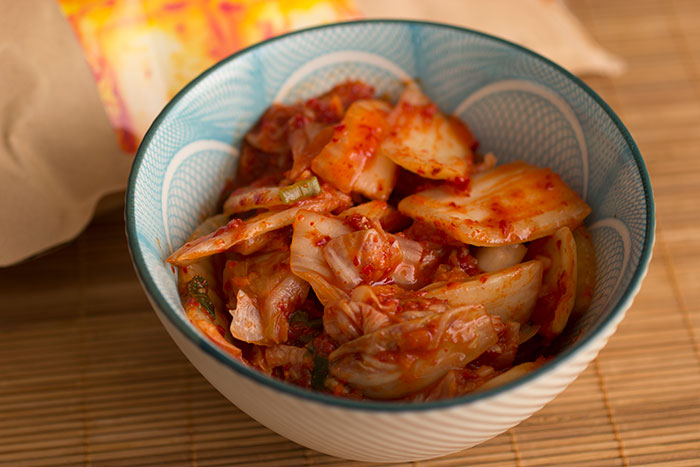 Kimchi – Ingredients:
Chinese leaves, Red pepper powder, pear, Spring onion, carrot, sugar, salt, glutinous rice flour, garlic, ginger, dried kelp.
It can be made at home too and I might try to make my version. It is a dish that it eaten daily by most South Koreans, for thousands of years. Kimchi was made popular during the Summer Olympics in Seoul, 1988. It was one of the official foods at the Olympic village. The dish proved to be a success.
Kimchi can be served as a side dish or used in cooking. The recipe might have been used before refrigeration as a way to preserve cabbage for winter. As it's such an old dish, it has a couple hundred varieties, but the most common one is with napa cabbage and, of course, the red Korean pepper. This pepper is what makes kimchi different to other types of fermented cabbage. It makes it very spicy and it also gives it that lovely redish colour. The pepper, gochugaru, is a catalyst in the fermentation.
I loved the taste, is so different than fermented cabbage or cabbage in brine (sauerkraut). Also, as I mentioned, Kimchi is very healthy too. The Asian cabbage contains a lot of vitamins and mineral, like A, B, C, K, potassium, calcium, and magnesium. The Korean red pepper is high in capsaicin, known for its analgesic properties. On top of that, Kimchi is made with the addition of healthy spices like garlic and ginger.
Due to fermentation, Kimchi has a lot of healthy lactic acid bacteria, thus having probiotic properties. There are plenty of health benefits claims, if you care to look for them. There isn't any difference in health benefits between kimchi made with seafood sauce or vegan.
Besides eating it as it is, you can add it to soups and rice. I've seen many recipes for fried rice Kimchi and there are plenty of recipes with eggs or tofu. I had it on its own, but I'm eager to try new recipes and I'm going to share at least one.
I bought the Kimchi from a vegan fair I've been to, but I will buy more from them online because I really like the taste.