Pina Colada Jam or Pineapple Coconut and Rum Jam, however you want to call it, is amazing. I've used coconut cream and due to its high content of fat, this will make the jam more rich and velvety. It's a delicious combination. I was delighted with it and we nearly finished two jars, even though we made it last week.
The recipe has only a few ingredients, but when it comes to coconut cream and Rum flavouring, good quality items are necessary.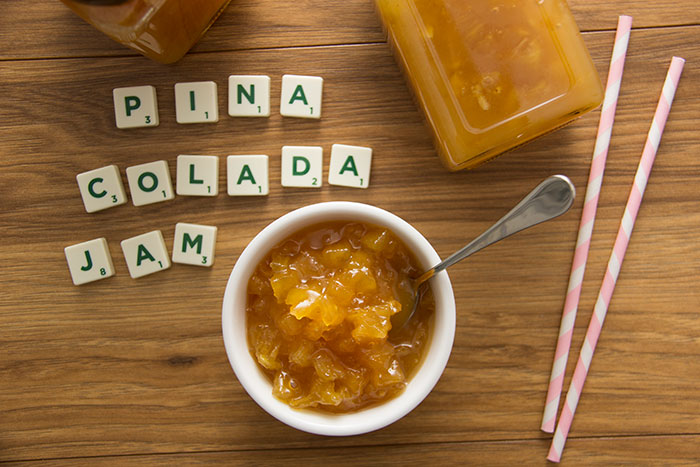 Good quality Rum flavouring is hard to find. Have a look in the International Shops or Polish shops you have nearby. Try a few brands before picking the one that is best. Only a few drops of flavouring should be enough to flavour the jam or cakes. The coconut cream I've used was solid. I bought it in a pack. It has to be rehidrated to make it into cream for cooking or milk if more water is added. This solid coconut cream is a better option to use in the Pina Colada Jam because it doesn't have water and it will keep the texture of the jam as it should.
Pina Colada Jam. Ingredients for 3 jars:
– 3 medium ripe pineapples
– 750g sugar
– 100g solid coconut cream
– Rum flavouring
Chop the fruits and put them in a pan over low heat. Stir the fruits with the sugar until the sugar is dissolved. Increase to medium heat and stir from time to time until the jam reaches 105C. Add the coconut cream and the Rum extract. Stir until it reaches 105C again. The jam should take about an hour to make.
Sterilize the jars by putting them in the hot oven for 10 to 15 minutes. Using a ladle, scoop the jam into the jars and close the lid. Keep the jam jars in the cupboard and they will last for a long time.