I was asked to create a recipe with Turmeric*. My first thought was to make something savoury, but, then, I changed my mind and came up with this Turmeric loaf idea. Turmeric is not only healthy, with a lovely flavour, but it also has a great colour, and I wanted to celebrate that in my recipe. I used Schwartz Spices before, but not Turmeric. Unsurprisingly, this one has the same high quality as the other spices they have on offer. You can get it from supermarkets like Tesco, if you want to bake my turmeric loaf or make another delicious dish using turmeric.
I loved the colour of the loaf. Doesn't it look spectacular? I will make some hot cross buns with Turmeric for Easter, as they will look so cheerful and fun. You can taste the turmeric in the loaf and I like it.
As I usually do, I used a mix of wholemeal and white flour, to make sure it has a higher quantity of fibres. I use milk chocolate balls for the filling. If you would rather prefer to make your loaf dairy free, then change that to dark chocolate and add a bit more sugar. Also, you can use dairy milk and not soy milk, like I did. The loaf will taste the same, as the spices are more important than the type of milk used to make it. I recommend using strong flour as it has a bit more gluten and that helps it rise better.
Turmeric loaf. Ingredients:
– 200g wholemeal strong flour
– 300g white strong flour
– 250ml lukewarm soy milk + 1 spoon for brushing the loaf
– 1 egg
– 100g sugar
– 8g Easy bake yeast
– 50g walnuts
– 100g milk chocolate
– 1 tsp vanilla paste
– 1 heaped teaspoon of Turmeric
– 1 spoon oil
Start by weighting the flour in the bowl of the mixer. Make a well on a side for the turmeric and vanilla paste. Make another well in the middle and add the yeast, the sugar, the milk, and the egg. Start mixing at low speed for half of minute. Pour the oil and increase the speed at 2. Let the mixer knead the dough for 6-7 minutes. If you are kneading by hand, make sure you knead for 10 minutes, even more if you can.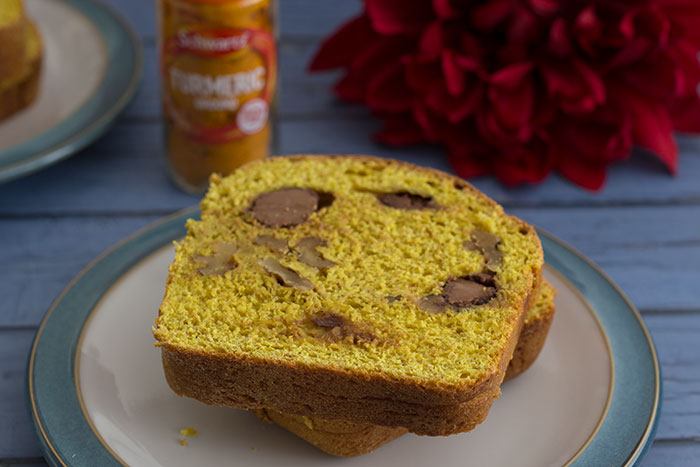 Put the dough in an oiled bowl, cover it with a tea towel and leave it to rise for 45 minutes to an hour, depending on how warm the room is. When it's double in size, sprinkle some flour on the worktop and press the dough using your hands into a large rectangular shape.
Put the chocolate balls and walnuts on the dough and roll it. Place the dough in an oiled baking tray. Cover with a tea towel and leave to rise for 30 to 45 minutes.
Heat the oven at 180C or 160C for fan assisted ovens. Brush the loaf with milk and bake it for 35 minutes. Take it out of the oven, leave it in the baking tray for a couple of minutes. After that, transfer it onto a cooling rack and let it cool completely before you are slicing it to serve.
*I was remunerated for creating this recipe. All opinions are my own, so are the pictures and the recipe.