In Romanian cuisine, savarin (called savarine) is one of best known desserts. My husband was, again, hands-on in the kitchen as he loves the savarins. I did a bit of research for the last recipe I made for savarins, when I first shared the recipe on my blog 4 years ago. The French recipe asks for alcoholic syrup, but we made it without any alcohol, again. While the first time I used syrup from canned fruits, as they added an extra flavour, this time I made syrup from sugar. Both work just as good.
These are my vegan savarins. They were delicious, the buns are really nice. I did not use any egg replacer for them. I have plenty of experience in making bread-dough and rich-dough to know how these will turn out without egg. For colour I've added a pinch of turmeric and for rise I've added a bit of baking powder. It's so very easy to replace eggs without making any difference.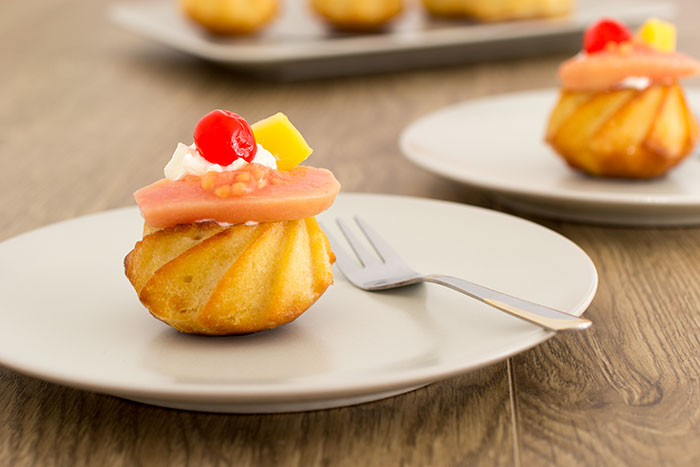 The savarins you see above are from the old recipe, which was vegetarian. As you can see, they look pretty similar with the vegan ones. The taste and texture of the buns is identical. I don't think anyone would make the difference between them.
Ingredients for 12 mini-savarins or a big Savarin:
for the buns
– 250g self-raising white flour
– 230ml warm soya milk
– 30ml oil
– 5g Easy Bake yeast
– 1/2 tsp baking powder
– 1 spoon of sugar
– a pinch of Turmeric
for the rest
– sugar
– vegan whipped cream spray
– fruits for decorate
Make the dough by mixing all the ingredients for the buns. Use the stand mixer to knead the dough for 6-7 minutes. The dough should be very wet and it's not possible to mix by hand. Leave the dough to rise for up 1 hour or until doubled in size.
Oil the Bundt baking tray and fill it 2/3 with dough. Leave it to rise for another 15 to 20 minutes. Meanwhile heat the oven at 180C or 160C fan. Bake for around 20 minutes, until the buns are golden brown. Take the tray out of the oven and transfer them onto a cooling rack to cool completely.
When they are cold, soak them thoroughly in the syrup. You can cut the bottom so it's flat on the plate or leave it and they will look like the ones I made before. Pipe the whipped cream in the middle of the buns and place the fruits on top. The savarins are ready to be served.