At GBBO is Biscuit week. The signature challenge is to make 24 identical decorated biscuits, the technical is Viennese whirls. The showstopper was a biscuit structure. Choosing Viennese Whirls wasn't hard. My pipping skills aren't great and I don't have enough experience with biscuits to make a structure.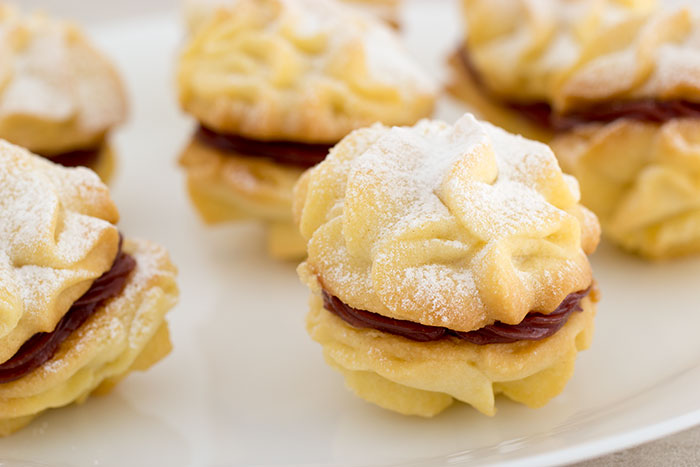 This is my second bake. The first one was awful, the whirls didn't hold their shape while baking, it was a mess. Well, these turned out delicious and exactly as they should have been. The biscuits are basic and the flavour is given by the raspberry curd. I bought the raspberry curd from an English Heritage gift shop and it's delicious. I will buy jars of curd from them, as it's so good and there are a few other interesting flavours like lemon and passion fruit.
Ingredients for 7 Viennese Whirls:
– 150g soft butter
– 150g plain flour
– 30g icing sugar and more to decorate (around 5g)
– 30g cornflour
– lots of raspberry curd (1/2 of jar I would say)
Preheat the oven at 180C or 160C fan.
In a medium bowl, put the butter, flour, sugar and cornflour. Add flavouring if you want. Mix the ingredients with the hand mixer for a couple of minutes. The mixture should be smooth, make sure all the ingredients are fully incorporated. Scrape the sides of the bowl if there is flour stuck to it.
Using a piping bag, pipe the mixture into whirls on a greaseproof paper. Bake for around 15 minutes until lightly golden.
I would suggest rotating the baking tray during baking, so the whirls are evenly baked. If you are using a fan oven this should not be an issue. When the biscuits are baked, take them out of the oven and let them cool for a few minutes. Transfer them on a cooling rack.
Put the curd into a smaller piping bag with a star nozzle. Construct the whirls, by piping raspberry curd onto one half and then before sandwich the biscuits together. Finish with a dusting of icing sugar.
They are delicious and I'm glad I made a second batch. I can't wait to bake biscuits again with other flavours.