I love scones and they are so easy to make that I'm cooking a batch every week. The scones are ready in only 20-25 minutes, baking time included.
I've made them with wholemeal flour, the texture is slightly different due to all the extra fibers. For a lighter texture, use white or half white, half wholemeal. Also, the scones are sugar free as I felt the dates make them sweet enough. If I make them without dried fruits, I have to add 25g sugar.
For 7 wholemeal scones:
250g self-rising wholemeal flour
30g dates
1 tea spoon of baking powder
35g butter
125ml milk
1 free range egg
Preheat the oven at 200C or 180C for fan assisted ovens.
The dry ingredients are mixed together in a bowl. Then I've added the butter and rubbed it with the flour, so it resembles bread crumbs.
Then I've added the egg beaten with the milk. The egg should not be added all at once and 2-3 spoons should be kept for glazing the scones before baking. It's better to have a wet dough, as the scones will rise better.
The dough should not the kneaded too much. Just mix the ingredients very well and that's it. I flattened the dough with the hands. It's ready to be cut.
I've put them on a greased baking tray and glazed them with the egg and milk.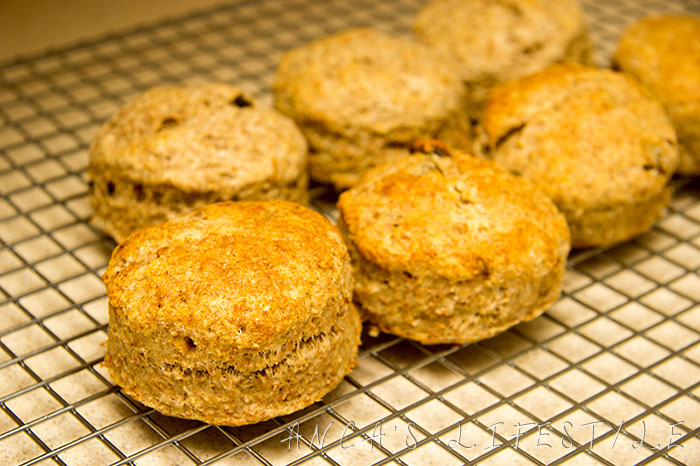 They are ready in 10-15 minutes.
Enjoy!