I make houmous quite often as it's an easy dish to prepare when I'm busy or I don't want to spend too much time in the kitchen. This recipe is vegan, low in fat and healthy. The shop bought houmous has lots of oil, but the traditional recipe is not oily. As I enjoy the shop-bought one too, I prefer this healthier alternative.
For this recipe I used 3 cans of chickpeas in water and I made 2 servings. If you want to serve houmous as part of a three course meal or as a starter, then this should be enough for 4 servings. I also had a bowl of Kalamata olives, as I usually serve houmous with olives. I left the pine nuts raw this time, but they can be roasted for a couple of minutes on the hob.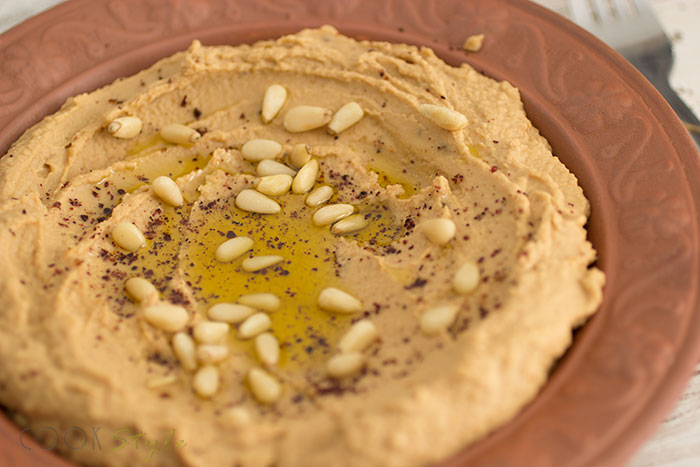 Ingredients for 2 servings of Houmous with sundried tomatoes as main or 4 servings as starter:
– 720g of chickpeas (3 small cans)
– 40g tahini
– 5 tomatoes
– 2 small lemons or 1 big
– 2 cloves of garlic
– salt, cumin, smoked paprika, coriander
– 2 spoons of extra virgin olive oil
– 10g pine nuts to serve
– sumac
Drain the chickpeas and put them in the food processor. Put the tahini, tomatoes drained from their oil, 1 lemon and the garlic and mix. After it starts to become smooth, add the spices and mix again. Taste from time to time to see if more spices are needed. If the houmous needs more acidity, add the second lemon.
The houmous should be smooth, if it's too thick, add water. I always add extra water.
Put the houmous on the plate with a spoon and form an well. Sprinkle sumac over the houmous and pour a spoon of olive oil. Toss the pine nuts on top and the dish is ready to be served.