Broccoli Polenta is based on a Mushroom version I made before. I love polenta and this time I've tried something a bit different. Also, if you are wondering about the difference between polenta and corn meal, see this post of mine. The term polenta is used in a wrong way often, even by well known cooks who appear in TV shows, and this can be puzzling.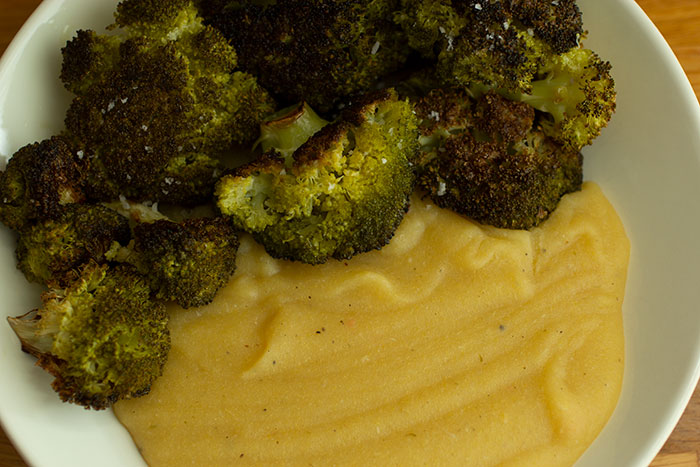 I've used all the broccoli, including the stem. It takes a bit of time to make it, mostly because it takes a while to bake and boil. But, at the same time, you can pop the veggies to cook, set up the timer for 30 minutes, and do other things meanwhile. This is one of the reasons why I love baking.
Besides trying something new with polenta, as in adding mashed veggies in it, I went a bit further and presented it with a twist. I poured the polenta in the tilted plates, making it look posh too. If you want to try that, use one or two cork coasters to slop the plates. Leave the polenta to set for a few minutes before adding the baked broccoli and serving it.
Ingredients for Broccoli Polenta, 2 servings:
– 1 large Broccoli
– 75g corn meal
– 2 spoons of oil
– salt and pepper
– Mediterranean spice mix
Wash and cut the broccoli. Put the broccoli florets in a baking tray and pour the oil on them. Bake at 200C or 180C for fan assisted ovens. Leave the broccoli for 20 minutes, have a look, then leave for 5 to 10 more minutes, depending on how much the broccoli still have to bake.
While the broccoli florets are baking, cut the stem and boil it for 25 minutes or until tender. Cooking times can differ depending on how fresh the vegetables are.
When the broccoli stem is nearly done, start making the polenta. Pour 450ml boiling water into a pan, add the corn meal. Stir so the corn starts to dissolve in the water and it does not have any lumps. Leave to cook for about 10 minutes, stirring from time to time, to avoid lumps and also for it not to catch the bottom of the pan. Meanwhile mash the broccoli stem with a hand blender, add the spices and stir. Scoop the broccoli to the polenta and stir to incorporate.
Now put the polenta in the plates, add the broccoli florets on top, and serve.