I fancied a blueberries cake with Physalis. After thinking of how I want to make the cake, I've decided to put all the berries in the sponge and leave the Physalis on the side.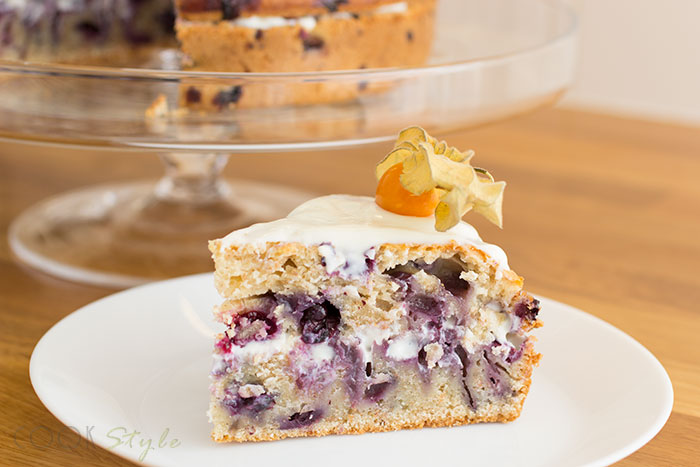 Blueberries cake – Ingredients for 8-10 servings, the sponge:
– 300g white plain flour
– 100g wholemeal plain flour
– 1/2 tsp of baking powder
– 250g blueberries
– 130g sugar
– 100ml oil
– 3 eggs
– 200ml milk

To make the sponge, mix the flour and the sugar. Wash and dry the blueberries, put them in a large bowl, add a couple of spoons of the flour mix and coat them by tossing them in the bowl. In another bowl, beat the eggs with the milk and the oil. Pour the egg mixture on top of the dry ingredients and mix. When all the flour is incorporated, tip the blueberries on top and stir gently. Pour the batter into an oiled baking tray and bake it in the preheated oven at 180C / 160C fan for 50-60 minutes. Test the cake with a wooden skewer to see if it's baked all the way through. If it's not, leave it in the oven until the skewer comes out clean.
Leave the cake on a cooling rack until is cooled, then cut it with a bread knife. Put the first layer of the sponge on the serving tray.
Blueberries cake – Ingredients for the cream:
– 200g soft cheese (I used 50% less fat)
– 60g icing sugar
– 1 pack of Physalis for decor and on the side
To make the cream cheese, put the soft cheese in a larger bowl and start incorporating the sugar. Add the sugar in batches so it's easier to mix. Taste and if you prefer it sweeter, add a little more sugar. Put half of the cream on top of the first layer.
Place the second layer on top and coat it with the remaining cream. Decorated with three Physalis, the cake is ready to be served.