My mother used to make Pilaf for me when I was a child. After trying risotto, I prefer the creamier texture, but I sometimes want the recipe I was used to, with a twist to make it vegan and healthier. This time I've made Cavolo nero pilaf.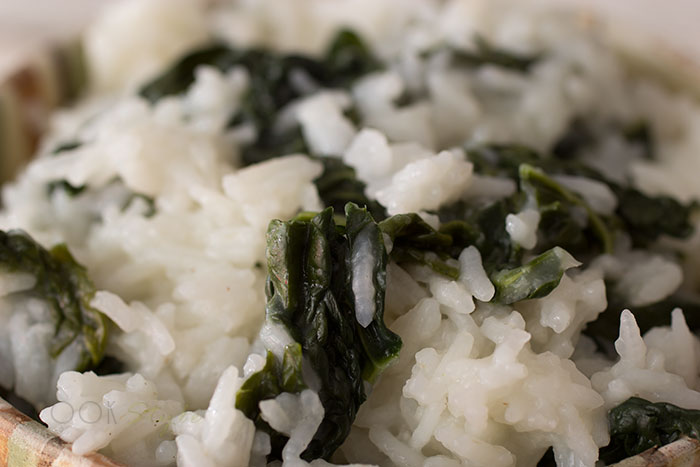 This works great as a main dish, then there are only 4 servings, or as a side dish. It is so easy to make and it is delicious. On top of that, the contrasting white rice and the dark cavolo nero looks really nice.
Ingredients for 8 servings of Cavolo Nero Pilaf:
– 500g long grain rice
– 1 pack of Cavolo nero
– olive oil
– salt and white pepper
Wash and tap to dry the cavolo nero with a kitchen towel. Remove the stems and chop the leaves in big chunks. Tip the kale into boiling water and boil it until is soft. Drain the cavolo nero.
In another pan, bring water to boil and tip the rice that was previously washed. Boil the rice according to the instructions on the package. The rice and the cavolo nero should be ready at the same time, but check, if the veggie is fresh it takes less to cook. When it's nearly ready, add the salt and the white pepper.
After the rice is ready, tip the cavolo nero on top and stir. Add as much olive oil as you want and stir to incorporate it. For me, 4-5 spoons of oil are enough.
The Pilaf is ready to be served. Do you prefer Pilaf or Risotto? I would love to know your thoughts.